Diving Into the Holiday Edition of Florida Coast Magazine
Diving Into the Holiday Edition of Florida Coast Magazine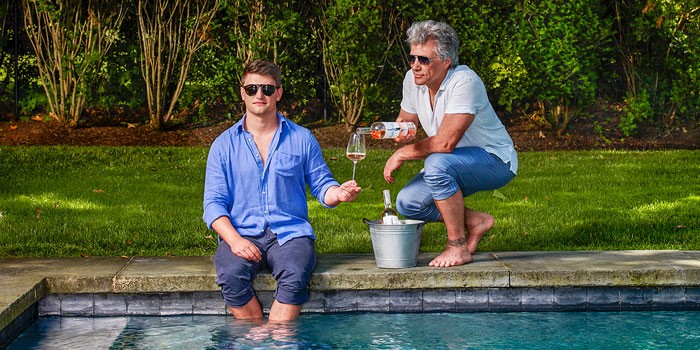 JUPITER, FL – Nov 6, 2018 – The holidays are almost upon us—so it's time to gather around with family and friends, pass out the wine glasses, and dive right into a brand new holiday edition of Florida Coast Magazine. This issue literally dives into Hampton Water with Jesse Bongiovi and his rocker dad, Jon Bon Jovi. The duo offers us a taste of their rosé wine brand Diving Into Hampton Water while Jesse weighs in on why he loves rosé and what it's like working with his dad. Available on both mobile and desktop devices, readers can head to www.floridacoastmagazine.com to be part of South Florida's most exciting read, or signup to receive a hardcopy.
In addition to our feature on Jesse and Jon Bongiovi's exceptional rosé wine, this issue highlights Polo trainer Gates Gridley from the International Polo Club in Wellington, race car driver and Tequesta-native Oliver Askew, and watch designer Fiona Krüger. There are also some delicious holiday drink recipes to get you in the spirit of the season, tips to stay calm during all the hassle, as well as some incredible prizes to be won in our second annual "12 Days of Christmas Giveaways" contest.
Publisher of Florida Coast Magazine, Margo Commette said, "As a bi-monthly magazine, our goal is to provide you with in-depth articles that have relevance to our area, from Hutchinson Island down to Boca Raton. We aim to supply our readers with the very best quality whilst keeping up to date with interesting issues and stories within our area. This holiday issue will offer inspiring ideas and stories you should take time to enjoy reading in a fast-moving digital world." So wherever you might find yourself this holiday season– be it on the beach in the cooler, crisp air or on the couch cozied up with a glass of Diving Into Hampton Water – make sure to indulge in this one from cover to cover!


About Florida Coast Magazine:

Florida Coast Magazine, formerly InJupiter™ Magazine is the ultimate visual voice capturing the community, businesses, and diverse lifestyles of the people living, visiting, and enjoying the recreational and cultural activities in coastal Palm Beach County and Martin County, Florida. Florida Coast Magazine is the ultimate experience for all things in coastal Florida living. Providing print and digital versions, Florida Coast Magazine features captivating articles with the latest trends and happenings revolving around one of Florida's most beautiful beachside communities and vacation destinations.

Florida Coast Magazine is more than just a local magazine, it is a magazine focused on the entire mix of folks who find themselves in this Florida coastal town. It caters to long-time residents, businesses and one-time visitors; from the golfer to the surfer; from the auto enthusiasts to the foodies. If you find yourself in Palm Beach County, FL and crave the latest buzz of this thriving coastal city and would like to know the must-do activities and places to visit. For more information, please visit www.floridacoastmagazine.com
---
See the Business Behind the Story

Florida Coast Magazine, formerly InJupiter™ Magazine - Voted Best New Magazine by the Florida Magazine Association. Located in Jupiter Florida
Jupiter, Florida, United States | 561-768-9793, email us

Ad Agency in Jupiter Florida
Jupiter, Florida, United States | 561-768-9793, email us
Diving Into the Holiday Edition of Florida Coast Magazine