Making Miracles Happen
Making Miracles Happen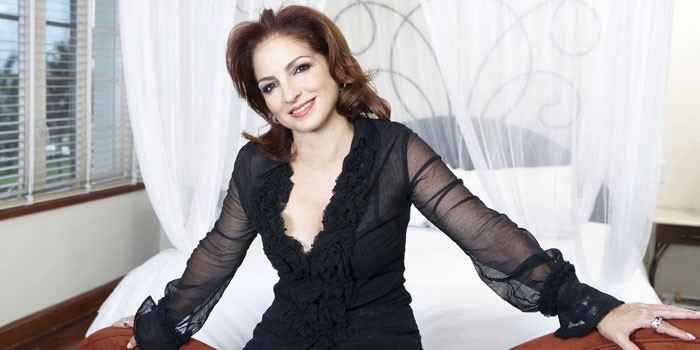 Gloria Estefan Gets on Her Feet to Help Numerous Charities and Give Back to the Community

Gloria Estefan is a marvel: an international superstar, a seven-time Grammy award-winner, achiever of 38 #1 hits, actress, author, restaurant owner, and philanthropist. Florida Coast Magazine sat down with Gloria, to find out about her organization, The Gloria Estefan Foundation and why it's so important to give back to a community that helped her through some very tough times.
Achieving worldwide sales of over 100 million records with several hits like "Conga," "Turn The Beat Around," and "Get On Your Feet," Gloria Estefan is still a very busy woman dedicated to everything she turns her focus to. Cuban-born, Gloria joined the band, Miami Sound Machine (originally known as Miami Latin Boys), which was started by her husband Emilio Estefan Jr. In the late 1980's, Gloria began to branch out with her own solo projects to critical acclaim, but she has kept ties and still works with Miami Sound Machine.
Gloria's foundation was started in 1997, following a horrific tour bus crash in 1990. "The crash left me paralyzed and after that my primary objective was to set up a foundation that would somehow help find a cure for paralysis and neurological diseases," Gloria recalls. "I aligned myself with The Miami Project, and after making the first donation, I directed all funds from three of my songs to go to this amazing organization. After my accident, I was fortunate enough to not only be able to walk again, but to reclaim every aspect of my life and career. I really want to help be part of that cure for others, who have not been so lucky."
The Miami Project focuses on the advancement of science in spinal cord research. Returning 80 percent of motor functions to primates with a severed spinal cord, the medical development of Schwann cells is progressing. "This research is making a big difference in the lives of those who are suffering from spinal cord injury," Gloria considers. "They now have a greater possibility of recuperating their motor functions."
Gloria goes on to make a point, "I want my foundation to also help small local charities that fall through the cracks and need immediate help. Children and their education is also very important to me."
It's easy to see this superstar is not only modest, but she's extremely passionate about helping others. Her foundation has made donations to the Miami-Dade College Foundation, Here's Help (which offers counseling and rehabilitation services to the young who are suffering with substance abuse), The Humane Society of Greater Miami, and His House Children's Home (which is dedicated to restoring the lives of children and families in the foster care system).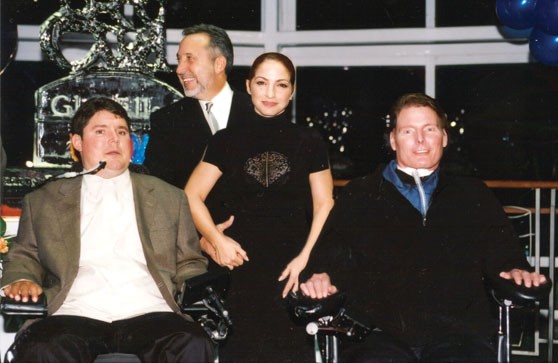 Gloria says that finding a cure for paralysis and neurological diseases is one of her main objectives. Pictured with Christopher Reeves (right) and Marc Buoniconti (left) here with
The list is long and her dedication is unwavering. The Gloria Estefan Foundation has also helped fund a dog park in Vero Beach. "It's crucial that pets and their owners have a safe space outdoors to run and play and find a community among other animal lovers in their hometowns," she adds.

Quizzing Gloria on her work with animal rescue charities, Gloria grins, "My entire family loves animals and we are committed to helping shelters that try to protect and find homes for defenseless animals, that give humanity so much unconditional love."
Gloria is true to her word and has rescued four out of five of her dogs. Their names are Lulu, a 12-year-old long-haired Chihuahua, six-year-old Beagle/Bulldog mixes, Bowser and Daisy, and two-year-old Chitzoodles, Hamilton and Mathilda (rescued through Broadway Barks). Gloria's love for animals doesn't just stop at dogs. "I also have Cosmo, an African grey parrot, 14 cockatiels, 25 love birds, seven turtles, a pond full of beautiful Koi, and other assorted fish... and a partridge in a pear tree," she giggles. »
Gloria is a serial entrepreneur with a selection of business endeavors—from owning several restaurants, such as Estefan Kitchen and Larios in Miami, to possessing shares with her husband in the Miami Dolphins, the first Latin couple ever to do so. She is always on the lookout for the next project or adventure and appears to thrive when it comes to giving back to the community.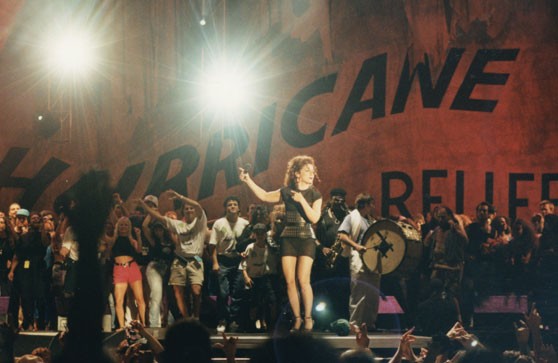 Gloria's dedication to her community has always been strong–as seen here at the relief concert for Hurricane Andrew back in 1992.
As if her talent in music and business were not enough, Gloria's smarts shine as she sits on the Board of Trustees for The University of Miami, where she holds a B.A. in psychology with a minor in French. She has been awarded an Honorary Doctoral degree in music from the Berklee College of Music in Boston, and an honorary law degree from Barry University.
With a long list of accomplishments—from a star on the Hollywood Walk of Fame to an induction to the Latin Songwriters Hall of Fame—the pinnacle of honors was in 2015 when Gloria and her husband, Emilio, were honored to be presented with the Presidential Medal of Freedom by President Obama. It was the first time in history this award was bestowed upon a couple and it was extremely special because it's the nation's highest civilian honor, presented to individuals who have made meritorious contributions to the United States, world peace, and culture.
Gloria's love of theatre is strong. Alongside her husband, they are executive producers of the Tony Award-nominated musical On Your Feet. The musical is set to Gloria's chart-topping smash hits, in addition to one new original song written by their daughter Emily Estefan. The Broadway show has gone global, proving that Gloria's music can still get people moving, rolling their shoulders, and doing the conga in the aisles.
Gloria has little free time, but when she does, she loves spending it outdoors bicycling, swimming in the ocean, and taking long power walks. "I just love boating it's my passion," she smiles. "The key word in my life is balance. You can do it all, just not all at the same time."
There are so many different dimensions to this megastar, but what does she personally want her legacy to be? Gloria contemplates then answers, "That through our music, we were able to build bridges to our culture throughout the world and that in some small way, I was of service to mankind."
Gloria, has shown strength through her tough times and has used her stardom to help others. "Standing up and making it happen" without procrastination, she will continue to inspire generations to come. So "get on your feet" and give "everlasting love" to Gloria Estefan, one of the great, charitable and very talented icons of South Florida and known throughout the world.
Performances of Gloria's musical On Your Feet will be at the Kravis Center in West Palm Beach from January 8th through 11th. Tickets are available at www.kravis.org. If you wish to find out further information on The Gloria Estefan Foundation; please visit www.gloriaestefanfoundation.com. 
In Conversation with Gloria Estefan
---
How old were you when you first stood on stage to perform? The first time I stepped on stage to perform I was nine years old and performing in our school play as a fairy that woke up Hansel and Gretel by singing to them...I still remember that song clearly! Have you ever had a nightmare scenario on stage? I've had MANY! My skirt has fallen off, I've broken a tooth, given myself a black eye with a drumstick while playing percussion, have been electrocuted, tripped and fallen over monitors, you get the picture...
What is your favorite Palm Beach County restaurant? Unfortunately, I haven't been able to dine so often in Palm Beach that I would have a favorite restaurant. But my cousin, Lourdes, grew up in West Palm Beach and thanks to her mother, my Godmother, Mina, I learned to eat tomatoes there. She also made the best Café con Leche I've ever had and I had it in West Palm Beach!
If you were not a singer, what other career would you have pursued? I had double majors, Psychology & Communications and a Minor in French when I graduated from the University of Miami. I had been accepted into the Clinical Psych school and wanted to become a Doctor of Psychology, but by then had decided to study International Law and Diplomacy at the Sorbonne in France where I had also been accepted. Joining Emilio's band and falling in love with him changed both of those plans.
Do you have a favorite beach in Palm Beach County? Each beach has their own special magic and I haven't yet seen one I didn't like. But the quieter and more private the better.
Is saving the environment something you are passionate about? I believe that each of us has a responsibility to protect the environment because we all share this home, our world, and should make sure it's still viable for the generations to come.
Have you any advice to anyone wishing to pursue a career in the music industry? Do it because you absolutely need to share your art and stay true to the artist that you are and the music that comes from your soul. But try to have a backup plan to ensure that you can survive while you pursue your musical career. In other words, stay in school!

Making Miracles Happen