A Feast of Italy
A Feast of Italy

JUPITER, FL – September 13, 2017 – Mamma Mia! "The Feast of Little Italy" is celebrating its 15th year in Palm Beach County, and will be providing authentic Italian food, music, art, and traditions. Keeping their focus on family, culture, and community, this festival, which is presented by Arrigo Fiat of West Palm Beach, has become an annual tradition for generations to come and enjoy while celebrating their Italian heritage. This year, "The Voice" Sal Valentinetti will be headlining the show.
"As we celebrate 15 years, we could not be more honored to have Sal Valentinetti on stage as he truly represents what the past and the future of our Italian culture and the Feast is all about," says festival producer, Jerry Somma.

Sal Valentinetti, a crooner who started off as a pizza delivery boy, and now after competing on NBC's America's Got Talent, his flawless voice can be heard around the world. Sal was Heidi Klum's golden buzzer, and was the fifth finalist in the competition.
Known as Sal "The Voice," he has embraced the standards and Italian classics by performing hits from Frank Sinatra and Dean Martin while keeping the Italian culture alive for a new generation to enjoy. The hit AGT show has catapulted Sal into fame, but he has not lost who he is and where he is from.
So, what has Sal been doing since AGT? He has been recording and performing all over the world. He recently launched his first album
"The Voice," which has made it to Number 1 on iTunes and Amazon and charted Number 2 as a Top Jazz Album on Billboard.com. "The Voice" features Sal with his band "Black Tie Brass" who will be joining him this year at the Feast in Abacoa. He is currently working on his next album
to come out this month, just in time for the holidays.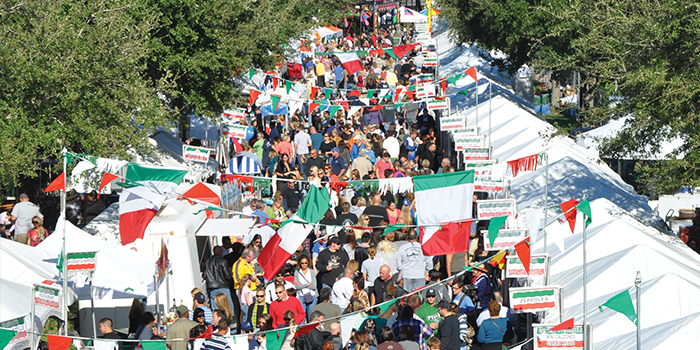 Throughout the Feast and with every step you take in Abacoa, there will be a food vendor serving up an authentic dish; from pasta, pizza, and sausage and peppers to shrimp scampi and pinwheels, and much more. The aroma of Italy will surround you and every bite will keep you hungry for more. Each year national and local chefs come out to the Feast and participate in the Galbani Cooking Pavilion with Chef Marco Sciortino from the hit TV show Come Dine With Me, instructing the public on how to cook a specialty dish with free cooking demonstrations and tastings highlighting the chef's very own Galbani recipes. In addition, free Voga wine seminars and tastings will be held throughout the weekend.
The festival will have attractions for all ages, including rides, carnival games, food, bocce ball, and live entertainment. Throughout the three-day festival there will be live music on the Palm Beach Gardens Medical Center stage from national and local Italian and Italian American artists. Everyone can expect a lot of energy when Sal takes the stage Saturday, November 4th at 8pm. In addition, The Atlantic City Boys will be performing Friday, November 5th, and Tommy Mara will close the Feast in an all new show, "Rocking Through The Decades."
So, bring your lawn chairs and blankets to watch all of the talented entertainers all day long on the Palm Beach Gardens Medical Center Stage. Admission is $7.00 to the festival. Children 12 and up are free. Parking is free.
Come be a part of this honored tradition in Jupiter and celebrate the Feast of Little Italy's 15th Anniversary with Sal "The Voice" Valentinetti and lots more. Bravo!
For more information, visit www.feastoflittleitaly.com.


A Feast of Italy