Things To Get Into This Summer
Things To Get Into This Summer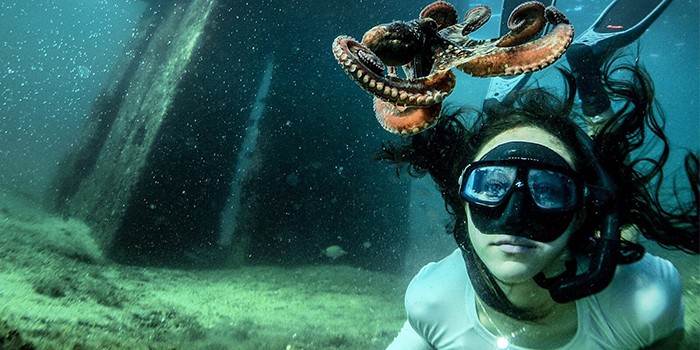 JUPITER, FL – June 29, 2017 – Looking for the perfect way to keep busy this summer? Whether it's an outing with the whole family or just some down time with good friends, here are a few things to keep you on your toes in Jupiter

1. KAYAKING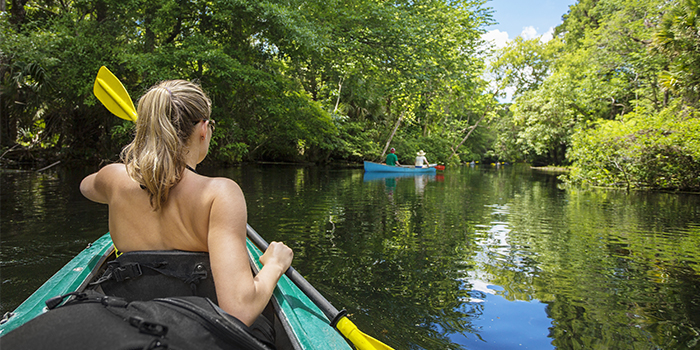 There are so many ways to see Jupiter, so why limit yourself to a car? Jupiter offers many waterways for kayaking and canoeing alike. The Jupiter Waterway Trail connects the Loxahatchee River, the Intracoastal Waterway, and the Jupiter Inlet, so you can take full advantage of all this unique system has to offer. Traveling from the quiet tree-covered rivers of Riverbend Park to the beautiful ocean-side estates of the Jupiter coast, these waterways offer incredible views of both wildlife and beautiful homes.

Jupiter Kayak Tours, Jupiter Outdoor Center (JOC), and Canoe Outfitters of Florida all help make kayaking easily accessible by offering rentals, as well as tours and guidance, for the best way to experience Jupiter from the water. Each having a unique location, these rental and tour centers encourage residents and visitors to get out and see Jupiter from a fresh perspective.

At JOC, you can even kayak back in time with the History of Jupiter tour.This 90-minute guided tour will take you through the Jupiter Inlet Aquatic Preserve as you learn about pirates, the lighthouse, and more. JOC also offers sunset tours, eco-tours, and moonlit tours. For a limited time only, JOC will be running special tours to Fullerton Island, recently acquired by the town of Jupiter. Over six acres of this island have been recreated with a priority in sustaining the native ecosystem and the diverse plant and marine life that is found in our area. Kayakers will be guided by an environmental educator from the Loxahatchee River Center, and will be able to take in the sights and sounds of this beautiful natural area while on a leisurely kayak trail suited for all ages and experience levels.
2. EXPLORING JONATHAN DICKINSON STATE PARK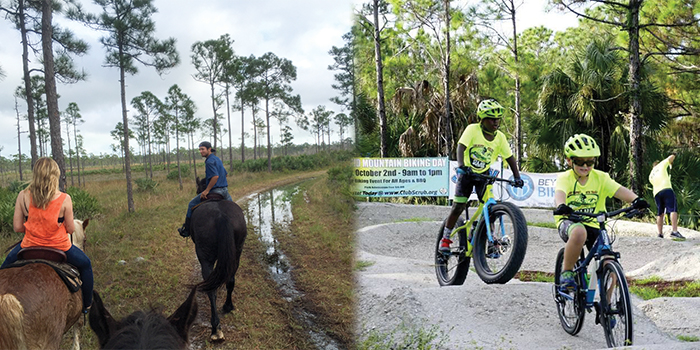 Jonathan Dickinson State Park is the perfect way to spend a day—or two—right here in our own backyard. JD State Park offers everything from fishing and hiking, to camping and mountain biking. Mountain bikes can be rented at the park and used all throughout the designated bike trails. There are loops for all skill levels, from beginner to "black diamond."
They also have hiking trails, as well as tours of the historic park by both land and sea. It is the perfect recreational playground for people of all ages.
The state park is also a haven for those looking to catch a glimpse of local wildlife. Many animals, such as manatees, deer, foxes, otters, bobcats, alligators, and more call this area their home. Over 150 species of birds have been identified in the park, making it an exceptional spot for bird watchers, as well.
Additionally, JD hosts a full, family friendly schedule to keep you busy. Fridays at 9:45AM, the park offers free, guided tours by kayak or canoe, and Saturdays are home to interactive, educational programs in the morning and ranger led programs in the evenings.
The park campgrounds stay busy year-round, and they boast full bathrooms, hot showers, electricity, tables, and grills. Dogs are welcome at the campsites, so be sure to bring man's best friend. JD even offers equestrian sites, so the equine members of the family can tag along too.
JD is a fun, educational location to take the kids, with the Elsa Kimbell Environmental Education and Research Center hosting displays and interactions on the wildlife and history that exists within the park. Pay a visit this summer and see for yourself.
3. THE MANATEE QUEEN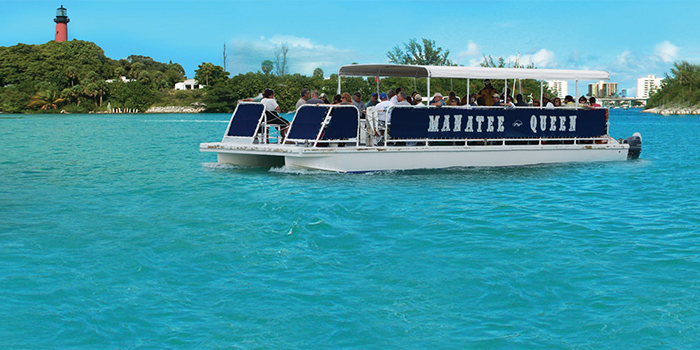 The Manatee Queen has been a year-round local resident since 1988. Brought under new ownership in 2012, the Manatee Queen has been updated by DDMB Tours to make guests as comfortable as possible. The 50-foot boat offers snacks, sodas, and waters for sale, but they happily encourage guests to pack their own picnic baskets and coolers to bring on board and enjoy the ride. The Manatee Queen offers two-hour narrated tours of Jupiter Island all year, departing daily at 12PM. Passengers will hear all about the history of Jupiter while making their way up the Intracoastal alongside Jupiter Island, viewing some of the most beautiful and affluent areas in the U.S.
If you're looking for something relaxing to do after work or maybe a great date night idea, look no further. The Manatee Queen offers sunset cruises as well. The evening cruises are one and a half hours departing at 5PM on Wednesdays, Fridays, and Saturdays. The evening cruises focus on the sights of Jupiter Island, as the captain points out the residences of some of the rich and famous who call Jupiter home. Both of these tours are only $30 for adults and $15 for children so you won't want to miss out on this opportunity for a beautiful time out on the water. The Manatee Queen is also available for private charters at any time of the year, and is catered to the guests needs, making it the perfect option for any event.
4. STAND UP PADDLE BOARDING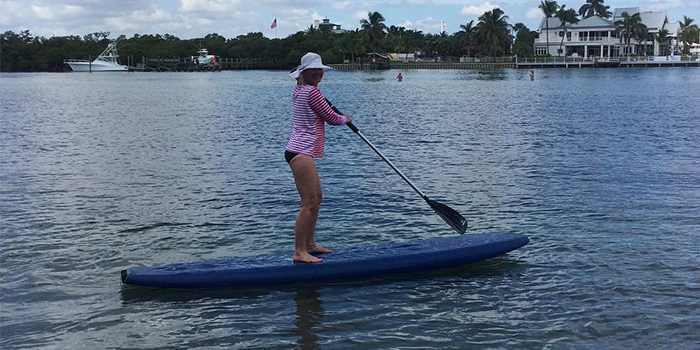 Stand up paddle (SUP) has become exceedingly popular in our waterfront area. It is used as a means for everything, from exercise to leisure. Anytime you're out on the water, you're more than likely to spot a few - no matter where you are. So, there's no arguing that SUP is one of the top things to do in Jupiter this summer. Similar to kayaking, the Jupiter Waterway Trails offer an amazing amount of routes to paddle your way through Jupiter. In turn, Jupiter's rental businesses and outdoor aquatic centers have met the demands. You can rent paddleboards pretty much anywhere in Jupiter, including Jupiter Outdoor Center (JOC), Jupiter Pointe Paddling, FL Paddleboards, Blueline Surf and Paddle Co., and Hui Hui SUP Rentals. With the amount of options in our area, it is possible to paddle anywhere you'd like.
JOC offers private paddleboard lessons with views of the Jupiter Lighthouse, as well as tours of wildlife preserves, the Jupiter Inlet, full moon paddles, sunset tours, and Manatee tours. JOC even offers monthly and seasonal memberships that include an all access pass to the outdoor center, making it easy to paddle anytime they're open and earn discounts on any of their tours and lessons. Blueline Surf and Paddle Co. is definitely a hot spot in Jupiter, with water access across the street at the tropical Guanabanas restaurant, you'll want to put it on your list of things to do this summer.
5. JET SKIING


Looking for a little something for the thrill seeker in the family? Or maybe just looking for a faster way to see Jupiter from the water? Look no further than the many Jet Ski rentals in Jupiter. Jet Skis are a great way to get around this water town, and with rental options available for multiple passengers, it's the perfect fun filled day for the whole family. With so many great reviews, Beach Water Sports and Jupiter Inlet Boat Rentals and Boat Club are the perfect options for rentals. By prioritizing education and fun, these rental companies encourage a safe environment for everyone out on the water. Both companies have similar policies on the rental of their Jet Skis, so be sure to read up on these tips before requesting a rental.
Make sure to bring a valid photo ID to ensure your rental. You will also be required to have a Boater Safety Card if you were born after 01/01/1988. Anyone born before that date is exempt from needing the card. However, if you are just visiting or unsure of whether you would prefer to take the Boater Safety Course, don't worry – each rental center is able to give a short exam for a temporary certificate, available upon request. With easy access, exceptional rental options, and a priority for safety, Jupiter is the perfect place to hit the water with family and friends. Take the Jet Skis to lunch across from the Jupiter Lighthouse, or head east for the open water. The day is to your advantage when speed is on your side
.
6. DRAGON BOATING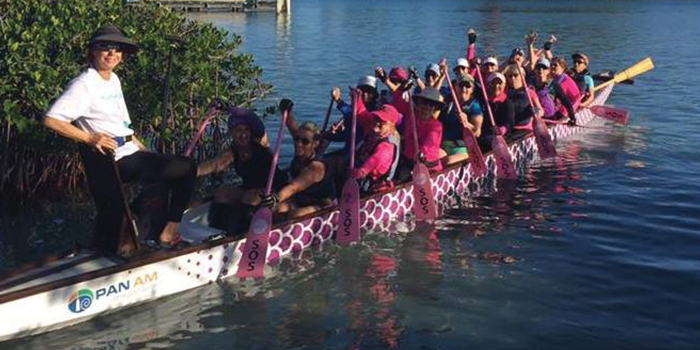 Perhaps one of the most unique things to try this summer in Jupiter is dragon boating. Dragon boating is essentially a team sport made up of 20 people paddling in a large canoe, with a captain to steer and guide in the back of the boat, and a drummer in front to keep the pace. The sport originated in China, but has slowly made its way over to America with clubs and competitions being held all over the U.S. What is so unique about the boats is exactly what they are named for. During competitions, each boat is decorated just like a dragon, with a dragonhead in the front and a tail in the back. Dragon boating has recently become popular in the Jupiter area, with two different clubs meeting at the Jupiter Outdoor Center (JOC) on Sundays to paddle together. Anyone can try it, with no experience or equipment necessary. The JOC and both boating clubs welcome beginners, and all it takes is a donation of any size to the clubs charity.
If you're interested in trying this summer's latest trend, contact JOC for more information. JOC recommends calling or stopping by their location to inquire about the sport, as times and days for dragon boating may change.
7. SNORKELING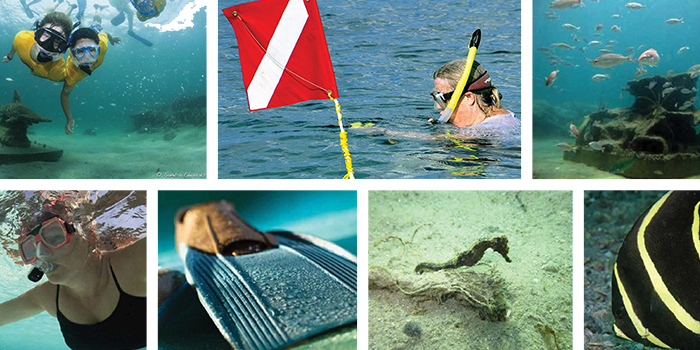 And the one thing you can't miss this summer – snorkeling! Snorkeling in the beautiful waters that make up our backyard is the perfect way to explore Jupiter's coast. Because of our great location, we get many amazing species that migrate through, and some that even stop to call our waters home. Jupiter alone has some of the most pristine conditions for shallow water snorkeling close to shore, so it's no surprise that this activity made the top of our list.
The first stop on our top spots is Carlin Park. This park consists of a 3,000-foot guarded beach and swimming area. With a reef within 50 feet of the shore, it's the perfect spot for an afternoon at the beach with a side of marine life interaction. Visitors will be able to see a variety of colorful fish, rays, and bright coral. What's even better is that during low tide, the water will retract, making it that much easier to wade out to the reef. This makes it more accessible for young children who might not be strong swimmers. What we love about Carlin Park is it is a guarded area where boats are not allowed, therefore divers can feel a lot safer when exploring underwater. Just jump in and enjoy.
Next up, we have DuBois Park. Just to the north of Carlin Park, DuBois Park lies on almost 19 acres of land, complete with activities such as boating, fishing, swimming, and picnicking. We love that just like Carlin Park, DuBois has designated swimming areas and a designated snorkeling lagoon. This historical beach has many tropical fish that make their homes in the rocks that make up the jetty. If you're lucky, you'll even spot some of the manatees that enjoy the warm shallow waters under the docks. All in all, we love that this park has a guarded swim and snorkel area, making it a safe and enjoyable place to take the kids this summer.
Not sure where to go, or even where to start when it comes to snorkeling? Maybe you aren't sure about the proper gear or techniques. Then the Jupiter Outdoor Center has got you covered. JOC will teach you all that you need to know when it comes to grabbing a mask and diving in. They even offer private guided tours for residents and visitors. An experienced and professional staff member at JOC will show you how, where, and when to snorkel, as well as keep you safe by following the proper procedures and guidelines. This is the perfect option if you aren't 100 percent comfortable in the water yet, or are just unsure of where to go to see the coolest sights. JOC will make sure that you are in the water at the right times and in the best conditions to safely see all that the coast of Jupiter has to offer. Tours start at just $35 a person, and include all the necessary gear and equipment you will need to snorkel comfortably and efficiently.
One of our final and favorite snorkeling spots lies just south of Jupiter, on Singer Island. The famed Blue Heron Bridge has become one of the top scuba diving and snorkeling spots in the U.S., becoming widely popular in underwater macrophotography due to its heavy population of unique fish, crabs, rays, manatees, turtles, and even seahorses and octopuses. What we love about this location is that, in addition to being a guarded swim area and designated snorkel trail, there are about 15 artificial reef modules placed on the snorkel trail by the Andrew "Red" Harris Foundation. ARHF is a Jupiter-based foundation, whose goal is to plant reefs to facilitate the growth of marine life. The foundation was created in honor of Andrew Harris, who loved to dive, fish, and snorkel in Jupiter waters. This foundation has done incredible things for the marine life all throughout Jupiter, just another reason our town is one of the best in the world for ssnorkeling. To read more about the ARHF, see page 66 in this issue. So, make sure to put your flippers on and jump in this summer.

Things To Get Into This Summer