Tee Time
Tee Time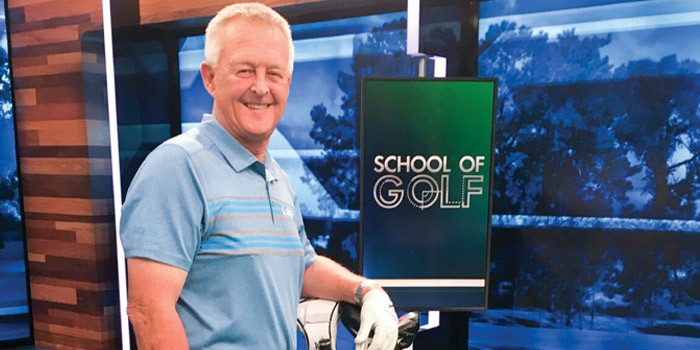 JUPITER, FL – February 26, 2018 – "I try to have a better day than yesterday and a better tomorrow than today," confidently states internationally known golf professional and teacher, Martin Hall. For someone who became pro by the age of 18 and went onto play the European tour, it's a pleasure to learn that Martin has remained humble throughout his widely successful career. And the depth of his passion for the game is truly remarkable.
It all started at age 11 in North Stafford, England. Martin tells the story of acquiring his mother's golf clubs, walking to the bus stop, and taking a trip to the golf club his parents belonged to. Although he had never taken a swing in his life, he chopped his way through nine holes and discovered his newfound passion.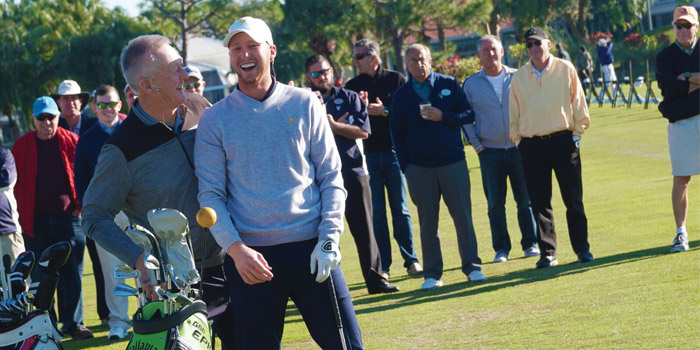 ABOVE: Martin has spent the last 42 years of his life dedicated to teaching the game he loves most, pictured here sharing a laugh alongside PGA Tour professional Daniel Berger; BELOW: Instructing golfers of all ages and levels, here he teaches PGA Tour golfer Lindy Duncan.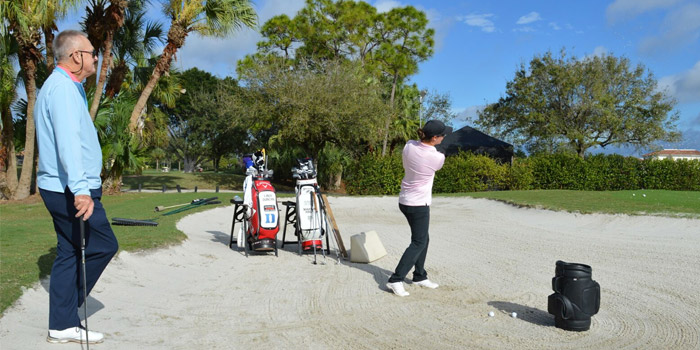 "I found that it was challenging, yet I fell in love with the sport immediately," recalls Martin. "I originally wanted to become a professional soccer player, but there were no teams for me to play on where my family resided."
Quickly progressing with the sport, taking lessons and playing with his family, Martin turned professional in 1975 and earned his way onto the European tour from ages 20 to 21. After touring, he felt as if he was meant to pursue the career of teaching others the game that he loves so much. In 1978, Martin began teaching golf to all ages and levels at Trentham in North Staffordshire.
"People seemed to like what I was telling them, so I grabbed every book and magazine I could find to expand my knowledge of the game," explains Martin. "But I felt I needed to know more. In 1982, I went to the U.S. to study under some of the greatest teachers in America… Bob Toski, Jim Flick, Peter Kostis, among others."
"My life's mission has simply been to teach others how to play better golf."
In 1985, Martin was offered a job and traveled across the Atlantic and settled full-time in Boca Raton, Florida where he taught at St. Andrews Country Club.
During his time in the Sunshine State, he was recruited by the world-renowned golf legend, Jack Nicklaus, in 1991. "It was surreal. When I was offered the job, I couldn't believe it," says Martin.
Nicklaus hired him as a lead instructor at the Jack Nicklaus Golf School where they would travel all over the world teaching in countries such as Germany, Holland, France, Canada, and his personal favorites, Japan, and the Philippines.
After touring the world for six years, Martin decided it was time to take a step back and travel with his wife, Lisa Hackney, as her professional golf career was in full force. During that time, he began working for Ibis Golf & Country Club in West Palm Beach, Florida as the Director of Golf Instruction (where he still currently teaches). He coaches Morgan Pressel, the youngest-ever winning of an LPGA major championship, as well as the number one junior golfer in the country, Garret Barber.
"I've been bestowed knowledge from some of the greatest golfers that have ever lived, and I want to share the wisdom before it is lost," states Martin. "With the new age of technology, although it is great, I feel as if I am a bridge from the past to the new generation and I want them to be able to soak up the wisdom from the ages."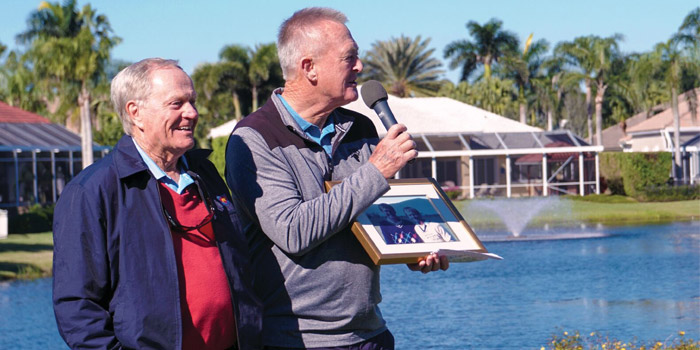 Martin with long-time friend, Jack "The Golden Bear" Nicklaus
And he has done exactly that through another career path: Television. In the early 2000s, Martin appeared multiple times on the Golf Channel. In 2011, he was given the opportunity to write and star in his own show on the Golf Channel called School of Golf, an instructional show to improve your game. And was also featured on Golf Channel Academy filming with top professionals like Retief Goosen, Ian Woosnam, Karrie Webb, and Tom Watson. Today, he has filmed over 250 episodes which are shown in 84 countries.
To further expand his reach to teach, he signed with Revolution Golf in 2016, where he and five other professional golf teachers—who some may say are the top six in the world—share daily tips for playing and instructional videos online, as well as provide golf schools for in-person instruction.
"I love having the opportunity to possibly make an impact on others around the world that I know I will never meet. It isn't the recognition for me, it's about serving others," explains Martin. "I take pleasure in teaching people of any age and level; I don't set a handicap for those I teach. My life's mission has simply been to teach others how to play better golf."
Martin has built and rightfully earned an outstanding resume of awards over the course of his career: British PGA Master Professional Status, South East Chapter Teacher of the Year and Section Teacher of the Year for PGA, and the 2008 National Teacher of the Year. He has also consecutively been on Golf Magazine's Top 50 list since it began in 1994, Golf Digest's Top 100 list since it began in 2000, written numerous articles for golf magazines, and published three books.
Although he has achieved much success, Martin prefers to lead a quiet and private life. He spends his days teaching at The Club at Ibis (formerly Ibis Golf & Country Club), filming his show, spending time with his wife, or playing on The Medalist golf course just north of Jupiter. As he has lived near the area for 23 years, he is a big proponent of the Jupiter lifestyle.
"The Jupiter golf scene is fantastic between the Bears Club, Trump International, and The Medalist. Jupiter is absolutely spectacular, which is why there are so many tour pros here," says Martin. "The golf courses are great, the beaches are great, the people are great, what's not to like?"
For more information on Martin Hall, go to www.martinhallgolf.com.

---
See the Business Behind the Story

The Club at Ibis- An Award Winning Club Community
West Palm Beach, FL 33412, Florida, United States | 561.625.8500, email us
Tee Time