Superintendent Fennoy Issues Statement, Thank You Video on Passage of County Question One
Superintendent Fennoy Issues Statement, Thank You Video on Passage of County Question One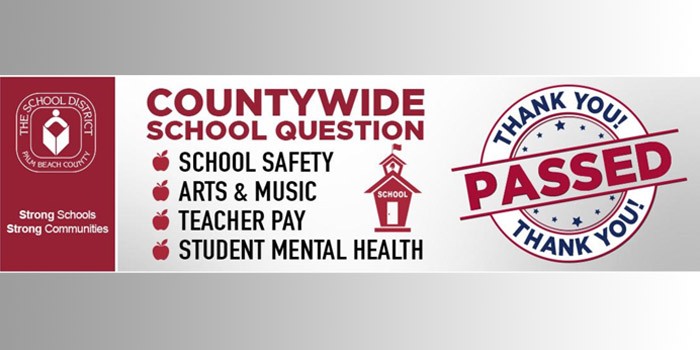 WEST PALM BEACH
- Palm Beach County voters, once again, put students first by approving the Countywide School Question on the November 6 ballot.

The Referendum, which takes effect on July 1, 2019, will increase the millage rate to 1 mill. This increase will provide approximately $200 million per year to Palm Beach County District-operated schools over the next four years.
"The passage of this measure speaks volumes about your commitment to our schools," said Superintendent Dr. Donald Fennoy in a message to county voters.
The levy stands to give Palm Beach County School District teachers among the highest salaries in the state of Florida, ensuring that the District can continue to retain and recruit the best teacher talent for students. Eligible teachers can expect to see the first longevity supplement in their paycheck beginning August 23, 2019.
Additionally, the levy will continue to fund 650 Art, Music, PE, Health, Choice and Career education teachers, enhance school security and allow the District to hire additional mental health professionals.
Every dollar collected from the millage increase will stay in Palm Beach County, and will be monitored by an Independent Referendum Oversight Committee made up of citizens and experts.
This Committee is already in place to monitor the spending of the Penny Sales Tax and the quarter mill previously approved by voters. Committee meeting dates, and expenditure reports can be found here:
"Because of you, and your commitment to ensuring our students a world-class education, Palm Beach County Schools will continue to provide excellence in education, and offer our employees a rewarding work environment," Fennoy said.
You can view Superintendent Dr. Donald Fennoy's Thank You video here:

---
See the Business Behind the Story

Schools & Educational Services
Jupiter, Florida, United States | 5617997513, email us
Superintendent Fennoy Issues Statement, Thank You Video on Passage of County Question One