Rhythmic Melting Pot
Rhythmic Melting Pot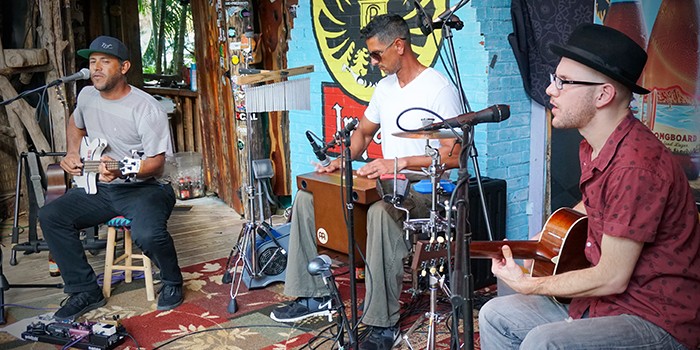 JUPITER, FL – December 27, 2017 – South Florida is characterized by a lively melting pot of different cultures, flavors, and sounds, and Jupiter's music scene is a direct by-product of said influence.
A prime example of the homogenous vibe cultivated with the amalgamation of diverse musical styles stems from three local musicians that regularly take the stage at Guanabanas. They are bassist/vocalist Gilly Gonzales, percussionist Carlos Chaulmer, and guitarist Amir Tal. Together, they perform as an acoustic ensemble known as Crabby Shaka, combining reggae, salsa, folk, Bossa Nova, Latin, Caribbean, and rock sounds.
For these three Tequesta-based musicians, relinquishing the danceable island sound is just another day at the office, and it comes in different formats, for Crabby Shaka is actually a newly developed side project that the trio put together to satisfy their hunger for acoustic performances. Their full-band fusion baby, The Moska Project, is Gilly, Carlos, and Amir's main venture.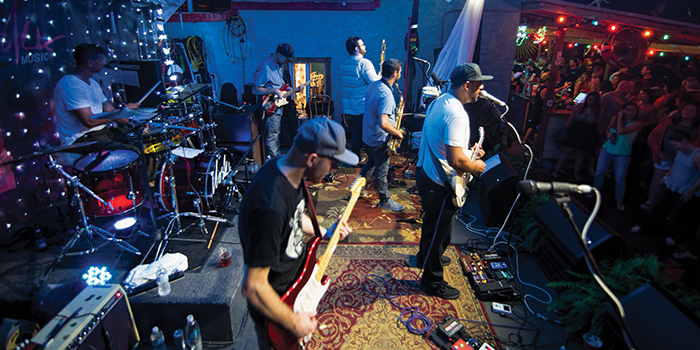 The Moska Project rocks the house at Terra Fermata
"Crabby Shaka is an acoustic side project that was created with the purpose of exploring the tasty grounds of acoustic performances," says Gilly. "Crabby is a platform for Amir and I to exchange guitar and vocal ideas at intimate setting venues."
The Moska Project began in 2002 as a drum and bass effort consisting of Gilly and Carlos, two Venezuelan-born kids with an inculcated creative fervor for musical composition. Following several different configurations and band member changes over the years, The Moska Project is now a six-piece band; Gilly (who plays rhythm guitar in The Moska Project), Carlos, and Amir are currently joined by Markis Hernandez (Sax and Flute), Tom Coughter (Bass), and Kevin Kripanuck (Trombone). Amplifying a mixture of rhythms and melodies, the band is known for their high energy shows that generate many a dancing crowd.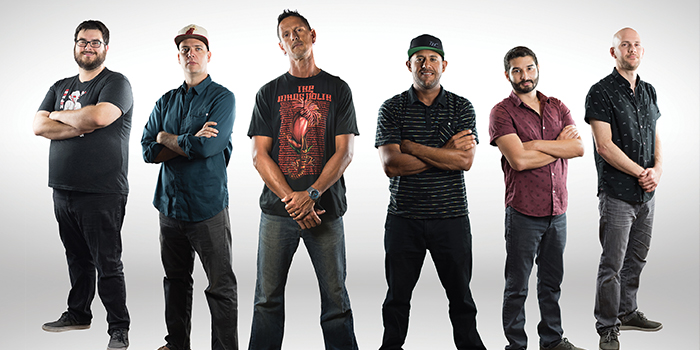 The Moska Project is a six-person band from Jupiter, Florida that continues to imprint their fusion sound in the South Florida music scene. From left to right: Kevin Kripanuck, Tom Coughter, Carlos Chaumer, Gilly Gonzales, Markis Hernandez, and Amir Tal
"It's hard to categorize ourselves narrowly because there are so many different ingredients that go into our recipe, but when we have to stand inside a box we usually chose Latin Reggae-Rock," says Carlos.
"The general goal is dual," adds Amir. "One side relates to the personal pursuit of inspiration and influences from each band member.The other side relates to the journey of reaching as far and wide as possible to spread our message of positive connectivity, music, and culture."
The Moska Project has released four albums to date, with their most recent production, "Cuatro," released on May 21st, 2016.
Aside from Guanabanas, you can catch The Moska Project and Crabby Shaka live at Maxi's Lineup, Terra Fermata, Tequesta Brewing Company, at local festivals in Abacoa, and other locales in the Jupiter-Tequesta area. To listen to The Moska Project, follow them on Spotify, Apple Music, and Pandora.

Rhythmic Melting Pot