Perpetual Motion
Perpetual Motion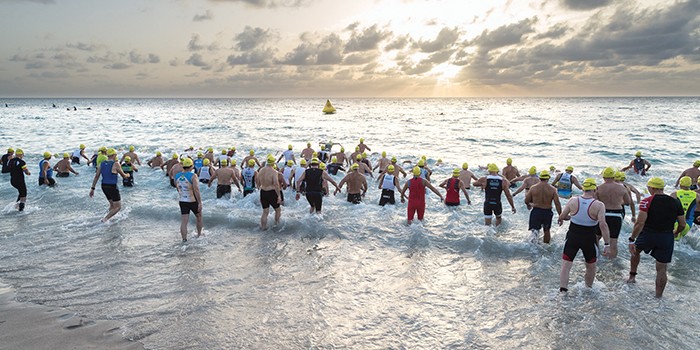 JUPITER, FL – June 27, 2018 – On your mark, get set, go! The Jupiter Medical Center Loggerhead Triathlon is back for its 33rd year and will take place on Saturday August 4, 2018 kicking off at 7 a.m. at Carlin Park in Jupiter. The celebrated triathlon is produced by the Palm Beach North Chamber of Commerce (PBNCC), a nonprofit serving various sectors within the community, and is one of the longest enduring races in the state of Florida.
Beginning in 1985, triathletes have made the trek to Jupiter year after year to participate in this grand event. More than 600 athletes from Maine to California to our hometown of Jupiter participate in the Loggerhead Triathlon. The oceanside course consists of a 3/8-mile ocean swim, a 13-mile bike, and a flat 3.1-mile run. In order to compete, there is an entry fee of $100 for individuals and $150 for a relay team to which the proceeds go to the programming of the PBNCC.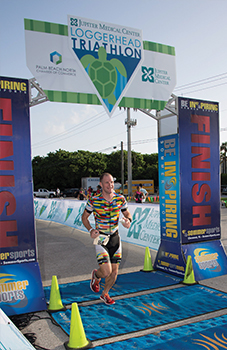 To complete the race, participants run a flat 3.1-miles to the finish line.
"We are pleased to be bringing the Jupiter Medical Center Loggerhead Triathlon to Palm Beach North for yet another year. This community event draws in athletes from the region and beyond, promotes health and wellness, and showcases our magnificent beaches. There is nothing like seeing the sunrise over Jupiter Beach and the first wave of athletes heading into the water," states Beth Kigel, president and CEO of PBNCC.
With the help of 150 volunteers, during the race there will be a live DJ, snacks, and refreshments provided by Tequesta Brewing Company and Black Coral Rum for guests to enjoy. After the race, an awards ceremony will take place where first, second, and third place winners will receive a medal awarded by PBNCC members.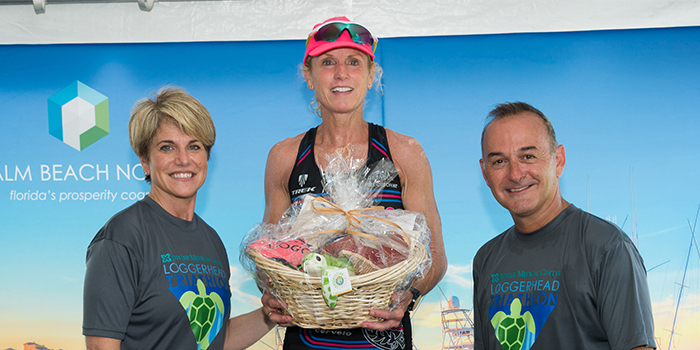 Beth Kigel, president and CEO of PBNCC and Steve Seeley, vice president, COO, and chief nursing officer of Jupiter Medical Center award a finalist.
"We have enjoyed a long and fruitful relationship with the PBNCC, and we are very proud to have our name on the Jupiter Medical Center Loggerhead Triathlon," says Don McKenna, president and CEO of Jupiter Medical Center. "We are deeply rooted in this community, and we believe the triathlon is an important event because it showcases athletes who are in peak condition or striving to be in their best physical shape. It's a win for everyone."
This year, the Wyndham Grand Jupiter at Harbourside Place is the "Official Host Hotel of the Jupiter Medical Center Loggerhead Triathlon" and is providing great rates for triathalon participants and guests to stay nearby the water. They will also be holding The Health & Fitness Expo the night before the race on August 3rd from 3 p.m. - 8 p.m. in the Preserve Ballroom. The event is free and open to the public, and will have 30 vendors for the athletes to enjoy. Let the competition begin!

Perpetual Motion