Love by the Truckloads
Love by the Truckloads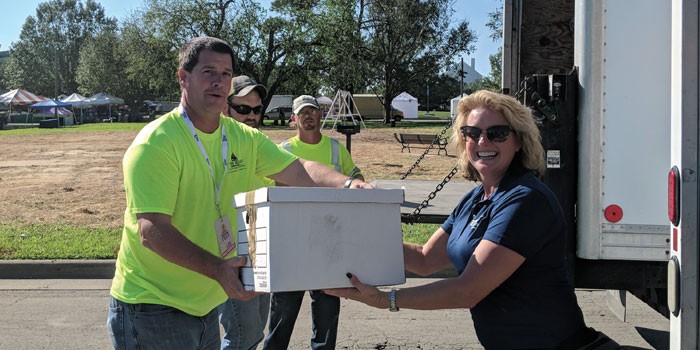 Here in South Florida, we are no strangers to hurricanes. We are all aware of how frightening they can be and the amount of destruction they can leave behind once they are gone. In these times of turmoil, we sometimes need a helping hand or a friendly reminder that better days lie ahead.
When Hurricane Florence hit the east coast in mid-September, thousands of people experienced flooding, property damage, and power loss. North and South Carolina received the full extent of the storm. Lisa Barbanera, owner of Blue Line Moving, lived in New Bern, North Carolina for 13 years. With her family and hometown in need, sending help was never even a question. Lisa humbly stated, "I'm not the hero… the heroes are the victims of the storm and the first responders. I'm just blessed to have trucks available to get the supplies up there."
After posting on social media about the intention to collect supplies, Lisa said it was like a domino effect. "News stations reached out and people wanted to get involved. The Jupiter community really came together. The first two trucks filled up within 24 hours," Barbanera reports.
After flooding in the area had receded, thousands of homes were declared to be unlivable. A multitude of people now found themselves uprooted from normalcy and uncertain about what the future held. Receiving donated goods can help lighten some of the burden after enduring such a tragedy. When trying to get back on your feet, obtaining even the most basic necessities can be a huge relief.
The first delivery consisted of two trucks and arrived in Lumberton, North Carolina and Richmond, Virginia. Originally, they were meant to go to New Bern, but this was not possible due to the roads being flooded. Goods were received and distributed through the Emergency Operations Management Center.
Lisa personally transported the second shipment to New Bern. Goods consisted of baby supplies, first aid, non-perishables, and personal hygiene items. Upon arrival, the Omega Distribution Center, located in downtown New Bern, made sure the supplies went where they were needed.
Lisa's uncle, who lost his home to Hurricane Florence, said, "There's a lot of love in that truck." I think this goes to show that even the smallest act can be a light in the dark for those affected by tragedy. •
In addition to helping the victims of Hurricane Florence, Lisa Barbanera and Blue Line sent a truck of supplies to the Florida panhandle to help after Hurricane Michael hit in October.

Love by the Truckloads