Leukemia & Lymphoma Society Announces 2018 Man & Woman of the Year Candidates
Leukemia & Lymphoma Society Announces 2018 Man & Woman of the Year Candidates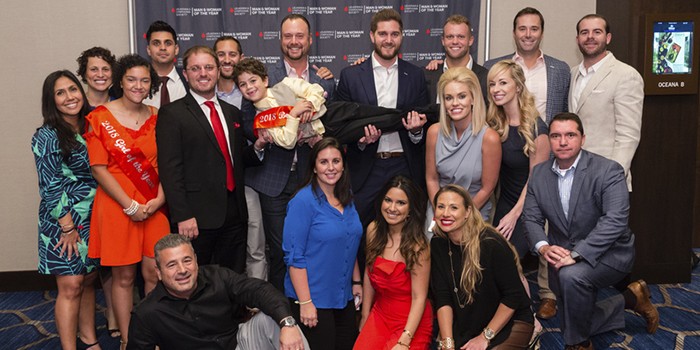 PALM BEACH COUNTY, FL – March 14, 2018 – Season is in full force for the Leukemia & Lymphoma Society's Palm Beach Area Chapter as they excitedly welcome in twenty new candidates for the 2018 Man & Woman of the Year campaign. The campaign, which runs from March 8th – May 19th, is a chance for these twenty local change makers to play a significant role in the fight against blood cancers.
"As a chapter, we are thrilled to be able to unveil another large pool of candidates," shared Pam Payne, Executive Director of the LLS Palm Beach Area Chapter. "We are so grateful for the unwavering support of these fine men and women who will set out on an amazing journey to raise money for lifesaving cancer research. This is a positive message to the community; our mission never stops and we'll never stop striving for a cure."
Candidates were selected for their community service and dedication to finding a cure. They will spend the next ten weeks raising money and awareness for and about blood cancers. The male and female candidates who raise the most money will win the local title and go on to compete for national honors.
Continued Payne, "Our 2017 campaign raised close to $1.3 million for blood cancer research, patient services, education and advocacy. We are excited to see what our 2018candidates can do!"
Money raised through the MWOY campaign supports LLS's mission to cure blood cancers and to improve the quality of life for patients and their families. This year's fundraising is in honor of two patient heroes, the 2018 Boy & Girl of the Year, 8-year-old Zachariah, a survivor of Burkitt's lymphoma, and 16-year-old Brianna, a survivor of Acute Myeloid Leukemia.
The 2018 Candidates include:
Eduardo Balbis, Jupiter - Accenture
Katie Bullard, West Palm Beach - Barry University
Eric Caserta, Palm Beach Gardens - Cheney Brothers, Inc.
Jason DelGrosso, Boynton Beach - Hilton Garden Inn/Kolter Hospitality
Marcio Dias, West Palm Beach - Sterling Real Estate Group
Will Fuchs, Boca Raton - XPE Sports
Carl Gentile, Jupiter - Gentile & Associates, EXP Realty
Stacy Holcroft, Jupiter - Publix
Chris Knapp, Palm Beach Gardens - Merrill Lynch
Yaruska Llontop, Lake Park - Kolter
Monique McCall, West Palm Beach - Monique McCall Productions, Inc.
Laura Neandross, Jupiter - Neandross Estate Homes
Jen Nolin, Palm Beach Shores
Erin Omiatek, Delray Beach - Sotheby's International Realty
Grant Portier, West Palm Beach - Tito's Handmade Vodka
Joseph Schulz, Jupiter - Law Offices of Berman & Berman
Eric Sprechman, West Palm Beach - Cole, Scott & Kissane, P.A.
Sahira Sued, Wellington - Sahira Jewelry Design
Christopher Tolbert, Boca Raton - Essex Mortgage
Honorary Candidate Team, Florida Cancer Specialists
Winners of the 2018 campaign will be announced at the Grand Finale held on Saturday, May 19th, 2018 at the Hilton, West Palm Beach.
Campaign co-chairmen are once again Derek Brock, Jessica Johnson and Troy Rice. Returning sponsors for the 2018 campaign include: Florida Cancer Specialists, WPBF 25 News, and Gulfstream Media Group.
To learn how you can get involved in future LLS events, or for information on the Leukemia & Lymphoma Society, please visit their website.
About The Leukemia & Lymphoma Society
The Leukemia & Lymphoma Society ® (LLS) is the world's largest voluntary health agency dedicated to blood cancer. The LLS mission: Cure leukemia, lymphoma, Hodgkin's disease and myeloma, and improve the quality of life of patients and their families. LLS funds lifesaving blood cancer research around the world, provides free information and support services, and is the voice for all blood cancer patients seeking access to quality, affordable, coordinated care.
Founded in 1949 and headquartered in Rye Brook, NY, LLS has chapters throughout the United States and Canada. Patients should contact the Information Resource Center at (800) 955-4572, Monday through Friday, 9 a.m. to 9 p.m. ET.
Contact Details
Name: Jennifer Martinez
Email: Email Us
Phone No: 561-301-4998
Leukemia & Lymphoma Society Announces 2018 Man & Woman of the Year Candidates