Kevin O'Sullivan: A Winner Through and Through
Kevin O'Sullivan: A Winner Through and Through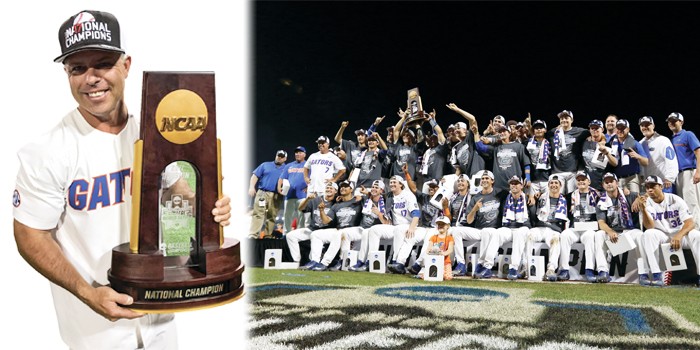 JUPITER, FL – August 29, 2017 – Discovering one's passion in life is not only invigorating, it is sustaining. Hobbies or interests lead to pure joy, but also to a path towards a business venture or career. Though it may sound cliché, once that is found, everything else falls into place.

Thus, as the old adage goes, "choose a job you love and you will never have to work a day in your life." By simply following this, Kevin O'Sullivan, University of Florida's head baseball coach, hasn't worked a damn day in his life. Not to mention, he's entering his 10th season as the Gators' coach.

Dubbing it a "passion you get earlier in life," O'Sullivan's love of baseball started from a primary age, and from his father, nonetheless. Living in New York, Father Sullivan's favorite team was, naturally, the Yankees. Catcher Thurman Munson was his dad's favorite player, and O'Sullivan followed suit. "Of course when you're young…you like who your dad likes. I think he always wanted me to be a catcher, and it kind of went that way," says O'Sullivan.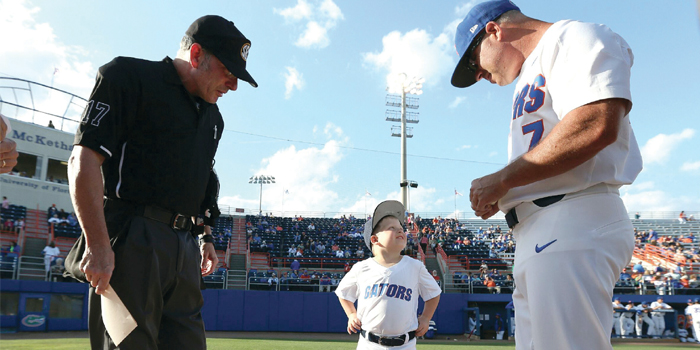 O'Sullivan takes a couple of coaching pointers from his son as they bring the lineup card to the umpire before a game


And it certainly did. After moving to Jupiter in seventh grade, O'Sullivan played at Jupiter High School as a catcher. Upon graduation, he attended two years at Florida Community College and then transferred to the University of Virginia. "I knew I was always going to come back [to Florida]," he says. "I was pre-med at Virginia...I wanted to play at the highest level…and academics were very important to me and obviously Virginia is a great school academically."

As for what he wanted to be when he grew up, it was a bit far from being in the sporting industry. "I wanted to be an orthopedic surgeon. That was the plan all along; and then life just obviously takes you on different turns and directions. I got into coaching and haven't turned back since," he said. Concurrently, Sullivan was a catcher during his collegiate career and was a member of the 1990 and 1991 ACC Baseball Tournament All-Tournament Team while at Virginia.

Succeeding this, O'Sullivan coached at FCC for about a year and then acquired his masters in exercise science at FAU, coaching there as an assistant coach for two years. He later returned to the University of Virginia to coach their baseball team from 1996 to 1997. Throughout his career, O'Sullivan also lent his talents to the Minnesota Twins' rookie clubs and Cllemson University. But it was in 2007 when O'Sullivan received a call from the University of Florida that determined his current position today, ten years later. In fact, UF was his first head coaching job.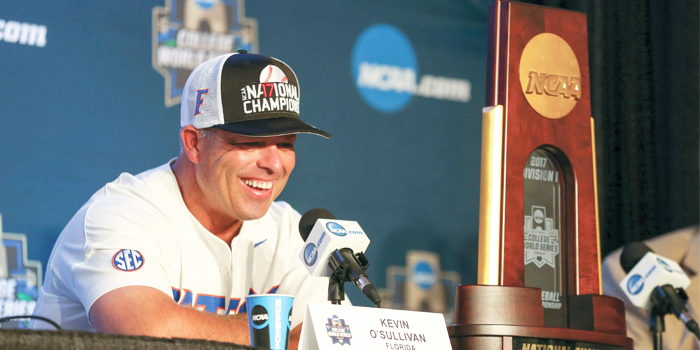 During the post-game press conference, O'Sullivan can't help but to smile next to the NCAA National Champions trophy


Each point in his career molded O'Sullivan. "Every stop along the way, in any profession that you've done or worked, you put your time in. One thing I did learn a long time ago is you become a little bit smarter when you surround yourself with smarter people. You just have to pay attention and surround yourself with the best people you possibly can."

Despite his many ventures away from Jupiter, O'Sullivan still considers it home. His mother and sister still live here, and his brother is a fireman in Loxahatchee. "My best friends are my high school friends and we still stay in contact all the time. So, it's why I call it home."

When asked how Jupiter compares to Gainesville, O'Sullivan had a couple of differentiating factors. "Well, Jupiter is on the water and Gainesville is obviously inland," he says. "Every time I go home, Jupiter is still growing and there's always new buildings. It's just so much different than when we grew up." He still considers Jupiter a powerhouse for his sport. "Jupiter High is probably the best high school for baseball now," he states. "We have some really good players. Gainesville is more of a college town. It's very vibrant. There's 50,000 students. There's lots to do."

O'Sullivan has a daughter Payton, 6, and son Finn, 4. "I encourage them to do anything they want to do. They have a lot of interests in a lot of different things," the coach replies when asked if he thinks they would play the sport. "Starting with Finn, there is no question. They're both at the field all the time. Finn loves it. He has his own locker; He goes out to home plate; he gives a lineup card to the umpires. He loves it."

"My daughter is the same way. She is in the dugout, right there with us. It's been really cool to have them on the field, and grow up that way."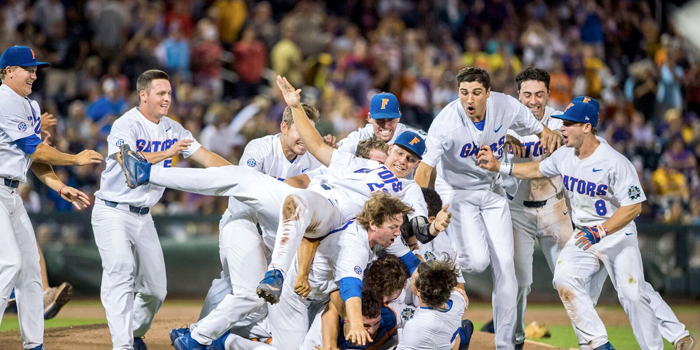 It's apparent that although O'Sullivan's passion lies with his job and children, the former of the two leaves little breathing room. "It's very time consuming. It's a 365, 24/7 job—there's really not a whole lot of time off," he admits, listing it as a con of coaching life. "Once recruiting is over in August, you jump right back into Fall semester...I guess the only break you really have is in between Fall and Spring semester. You have to certainly prioritize your time and make the most of the time you have with your kids, you're obviously not available all of the time."

However, the pros seemed to take up more room in the conversation. Stating he had "one of the best jobs in the country being in Florida," this coach lists helping players improve and "growing up" as a positive part of his occupation, among winning and recruiting. "It's been very rewarding," he says. "Helping these players not only get better on the field, but helping them grow up and see them move on to the next level of professional ranks, which most of our players do, and to see them succeed. That's the pure enjoyment that you get out of coaching, watching the players succeed and get better, and to see the enjoyment they have and the comradery that they have for each other."

Each season, the expectations and goals O'Sullivan has for the team remains the same: To win the FCC regular season, then earn a spot in the top eight national seeds, and, finally, to win the national championship. O'Sullivan's career at UF has been one of accomplished goals. For instance, UF has had the best record in the Southeastern Conference (SEC) and the highest number of MLB-drafted players over the last nine years. O'Sullivan's effect on the team has also resulted in many players participating in the College World Series. It's no wonder that O'Sullivan was awarded the National Coach of the Year in 2011.

However, it was Tuesday, June 27, 2017 that marked O'Sullivan's greatest accomplishment as UF coach. It was on this day that the Gators won their first baseball national title thanks to a 6-1 victory over Louisiana State. The win subsequently makes UF one of the only schools to possess titles in football, men's basketball, and baseball.

"I'm just so happy for the players, our staff, and our fans. The players deserve every bit of the credit," the coach says when asked how it felt to come so far this season. "The bond they have formed throughout the year was different. They truly played for each other. They will realize 10 or 20 years down the road that this accomplishment is something that they will cherish forever."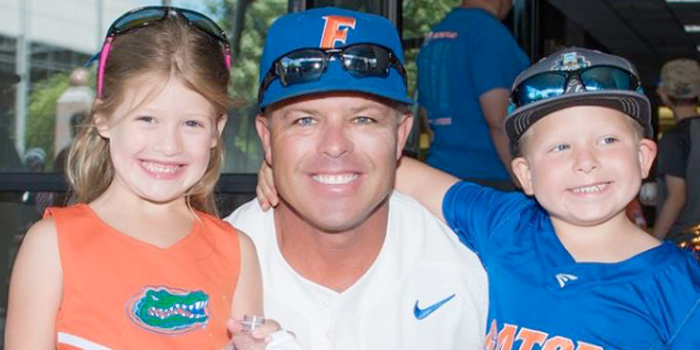 When they're not waiting for their Dad at home in Jupiter, O'Sullivan's daughter Payton and son Finn join him for a game or two


In fact, one can dub O'Sullivan the Midas of collegiate baseball coaching: Everything that was touched by him has turned to gold, er, success. Here's a few more fast facts: O'Sullivan's 2009 recruiting class was number one nationally, as well as the first time being accredited that honor. Also, during his first four regular seasons coaching, UF compiled the best conference win-loss record. Not to mention, he's had 69 players taken in the MLB draft. Yet, despite all of this, O'Sullivan does not credit his skill to the team's many accomplishments. "First and foremost, it's about the players. We've been able to recruit good players: I mean, that's the bottom line," the humble coach states. "The second thing is, we've had the same staff together for basically 10 years. We have a lot of continuity on our staff. From the academic advisor to the equipment manager to obviously our coaches, we've only had a couple of strength coaches over a 10 year period. There's really no recipe for success other than those two main things. You know, you have to build momentum, have a couple of good years and, next thing you know, kind of build momentum, kind of change the culture and you start having more success."

A well-known strength of O'Sullivan's is his vast knowledge of pitching; he named evaluating talent as another. Yet again, this modest coach gives credit to his team. "It always goes back to the players. You're only going to be as good as the players that you have in the locker room. It's really that simple. You just have to keep things simple. You try to find the right players that fit your program. Not just the most talented players, but the ones that kind of fit the culture that you have, and that's everything."

As for his weakness, it would be taking a loss to heart. Although, he admits to improving from this fault, thanks to his children. "I think kids change you. I think when you have kids, it puts your whole life in a different perspective," he attests.

Being broached about what was in store for the future, O'Sullivan was incredibly blunt. "I don't know," he confesses. "I take it day by day. In the future, who knows? I raise my kids to be the best they can be and be happy and do everything I can to help Florida win a national championship."

As for potentially being another team's coach, O'Sullivan won't be submitting his resume elsewhere anytime soon. "I've never been one to look for other jobs," he says. "I've always believed that if you're one of those type of people who are looking for your next job, you're not doing the best job at the job you have. I'm very fortunate to be at UF…I don't plan on going anywhere."

Visit UF's website at floridagators.com to get tickets to a Gators game or to find more information on Coach O'Sullivan and the rest of the coaching staff.

Kevin O'Sullivan: A Winner Through and Through