Introducing NRG Bites
Introducing NRG Bites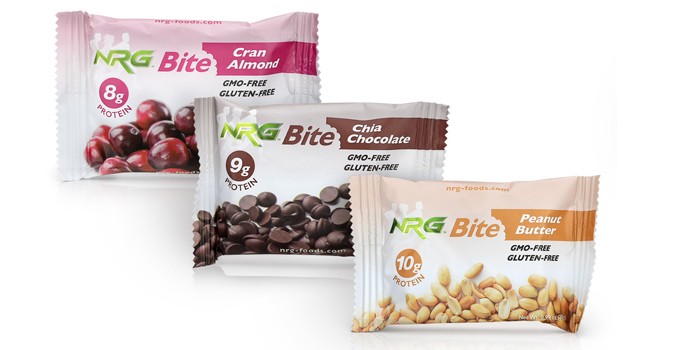 Ft. Lauderdale, FL— February 20, 2019—NRG Foods, a South Florida nutrition company, announced its retail debut of "NRG Bites," a protein-packed, non-GMO and gluten-free snack line. The mini, nutrition-dense bar, made with less than 8 grams of sugar per serving, offers a go-to, bite-filled experience for families on-the-go as well as fitness and sports enthusiasts.
"As a Type 1 diabetic, I struggled with finding a flavorful, low-sugar, high-protein snack—not a meal replacement. When creating NRG Bites, I wanted it to be just as important as eating a well-balanced diet that's portioned in size," says NRG Foods founder and professional chef Paul Kahan. "While most protein energy bars are simply too much for a between meals snack, NRG Bites is the ultimate solution for an energized snack that satiates hunger with nutritious ingredients."
The inaugural line of NRG Bites comes in three original flavors: Peanut Butter, Chia Chocolate and Cran Almond. The protein is derived from grass-fed whey concentrate, milk protein isolate, and whey protein isolate.
Each flavor's base starts with organic peanut butter, organic almond butter or organic cashew butter for optimal, palate-pleasing protein. NRG Bites derives from organic agave nectar or organic clover honey and organic dates, used sparingly for just the right amount of satisfying sweetness.
Peanut Butter is made with organic peanut and almond butters, ground flaxseed, crunchy crisps and a touch of sweetness from organic agave, clover honey and organic dates. A dash of sea salt enhances the creamy, crunchy unrivaled taste of pure peanut butter.
Chia Chocolate has a smooth velvety texture with dark chocolate chips, organic cocoa and a hint of chia seeds, providing a gluten-free snack made from wholesome, GMO-free ingredients. At just 120 calories, this decadent energy snack satiates and satisfies the most discerning.
Cran Almond is sweet and nutty, tart and tangy, but balanced with smooth all-natural almond butter and blended with a satisfying crunch to deliver a delightful fusion of good nutrition and taste.
NRG Bites bars offers a snack satisfaction packaged for portability to:
Grab a quick nutritious, tasty snack while waiting for a flight
Down a bite to tide you over before a meeting when there was no time for lunch
Kickstart your day before or after a morning workout
Consume a non-sugary snack in transit or an hour before dinner is served
Maintain a balance when your blood sugar needs a slight boost
Say goodbye to half-eaten, half-wrapped energy bars found in bottom of your purse
All three flavors of NRG Bites are now available for purchase online at www.nrg-foods.com.
About NRG Foods
Dedicated to creating clean and beneficial foods, NRG Foods, was inspired by a passion to promote health by fostering the importance of good nutrition and maintaining an active lifestyle. Founded by Fort Lauderdale-based chef, Paul Kahan, fitness enthusiast and Type 1 diabetic, NRG Foods signature "NRG Bites" blends organic and all-natural, gluten free ingredients with top shelf non-GMO proteins and maintains their mission to make healthy living easy. NRG Foods connects and educates customers on how to pursue a healthier outlook on "Snack Foods." While the business continues to grow, our commitment to the health and an active lifestyle remains through our brand transparency. We only use high-quality ingredients and remain connected to the health foods community. Join us in the pursuit of health, fitness, and most importantly flavor, in order to take a more nutritious "Bite" out life! Follow us on Facebook, Instagram or online at www.nrg-foods.com.
Introducing NRG Bites