Five Years of World-Class Pediatrics and Donors Celebrated at Jupiter Medical Center Foundation
Five Years of World-Class Pediatrics and Donors Celebrated at Jupiter Medical Center Foundation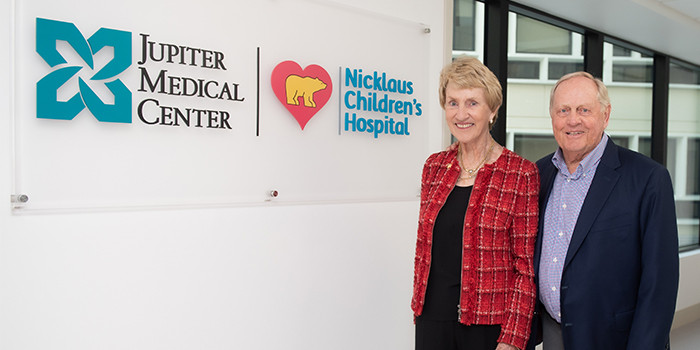 JUPITER, FL – June 10, 2021 – On May 18, a celebration at Jupiter Medical Center honored several generous donors and commemorated five years of pediatrics at Jupiter Medical Center.
World-class pediatric care continues to expand at Jupiter Medical Center thanks to the Nicklaus Children's Hospital Foundation, the Lawrence J. & Florence A. De George Charitable Trust, the Mastroianni Family Foundation, The Honda Classic Cares, the medical center's auxiliary, and many other philanthropic members of the community.
In five short years, Jupiter Medical Center has opened the De George Pediatric Unit, the Level II De George Neonatal Intensive Care Unit (NICU), and the Mastroianni Family Pediatric Emergency Department. Since 2016, Jupiter Medical Center has reached several milestones:
The Mastroianni Family Pediatric Emergency Department has treated close to 10,000 children.
The De George Pediatric Unit has cared for nearly 3,000 children and performed more than 2,500 surgeries.
The Level II De George NICU has welcomed 269 babies, a result of the pandemic baby boom that has seen a 21% increase in births from January to May 2021, compared to the same period last year.
Jupiter Medical Center was named one of the World's Best Hospitals by Newsweek and voted "Best Place to Have a Baby" by readers of The Palm Beach Post, while earning a Leapfrog Hospital Safety Grade of A, as well as a CMS Five-Star rating.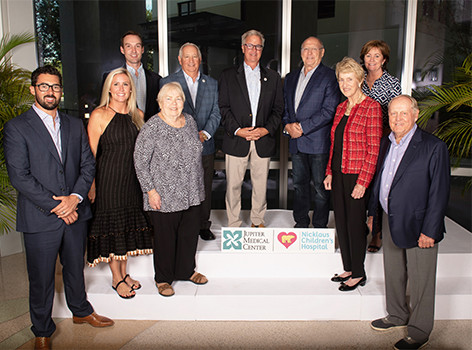 Back row (left to right): Andrew George, John Domenico, Kenneth Kennerly, Larry De George, Patty McDonald Front row (left to right): Nicholas Mastroianni, Jessica Mastroianni, Mary Roff, Barbara Nicklaus, Jack Nicklaus
Tracey Benson Photography
"While I am very proud of the awards and recognition, the programs and services we offer would not be possible without your philanthropic investment," Dr. Amit Rastogi, president and CEO of Jupiter Medical Center, told those in attendance. "As the only independent, not-for-profit hospital in Palm Beach County, we rely on philanthropy to recruit world-class physicians, build state-of-the-art facilities, acquire the latest technology, and launch new programs like we have in pediatrics. Thank you to all the generous donors who have made world-class pediatric care possible."
Cheers to the last five years – and many more to come!
About Jupiter Medical Center Foundation
Since its founding in 1989, Jupiter Medical Center Foundation has empowered Jupiter Medical Center with the financial resources to reimagine the delivery of health and wellness to the region. Jupiter Medical Center Foundation, together with Jupiter Medical Center, is committed to transforming regional healthcare through leading-edge technology, patient-centered care and enhanced facilities. The Foundation has funded a number of major projects at Jupiter Medical Center, including the De George Pediatric Unit in partnership with Nicklaus Children's Hospital, the Margaret W. Niedland Breast Center, The Anderson Family Orthopedic & Spine Center, the Frank E. and Mary D. Walsh Robotic Surgery Program, and the Florence A. De George Pavilion.
As a leading, not-for-profit medical provider in the region, Jupiter Medical Center relies on philanthropic gifts to maintain patients' well-being and quality of care, and Jupiter Medical Center Foundation is dedicated to securing this financial support in order to fulfill the mission of the organization. For more information, please visit jmcfoundation.org.
Contact Details
Name: Sarah McKenna
Email: Email Us
Phone No: 561-844-1778
---
See the Business Behind the Story

Welcome to Jupiter Medical Center, a not-for-profit hospital offering comprehensive medical services from a trusted and experienced medical team.
Jupiter, Florida, United States | 561.263.2234, email us
Five Years of World-Class Pediatrics and Donors Celebrated at Jupiter Medical Center Foundation