Education Fueled By Tragedy
Education Fueled By Tragedy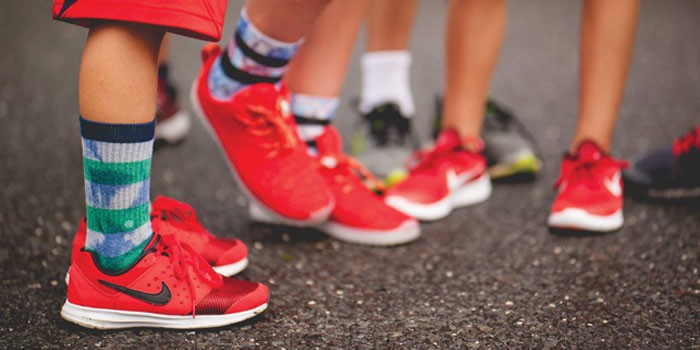 Oakley Debbs should be 13 years old. He should be playing tennis, soccer, and flag football with his friends. He should be laughing around the house with his twin sister Olivia. Oakley should be dusting off his red sneakers after running his latest marathon and getting ready to return to school after summer break from Rosarian Academy, West Palm Beach. Instead, Oakley's beloved red sneakers have become a symbol of his tragic death almost two years ago.
Sadly, with greater education about his allergies and proper training regarding treatment, Oakley's death may have been avoidable. Red Sneakers for Oakley (RSFO) was established by Oakley's parents, Robert and Merrill Debbs, the day after his death. Oakley loved his red sneakers and the family decided to use them as a powerful symbol for increased education and awareness among communities of people with food allergies, but also people without them.
Oakley suffered from both asthma and an allergy to nuts, and the Debbses believe they were ill prepared to recognize the signs of anaphylaxis, the acute multi-organ life threatening reaction to allergens.
While on a Thanksgiving vacation in Maine in 2016, Oakley ate some cake that contained either nut extract or nuts. Oakley had tree nut and peanut allergies and suffered a fatal anaphylactic reaction.
Oakley was normally very good about checking labels for nuts and peanuts but when he saw no obvious sign of nuts he indulged. He realized after eating the piece of cake, that it might have contained nuts. His mother had a taste and she too noticed a nut flavor. They did what they normally would do and gave him Benadryl in pill form. Although he had a hive on his lip, he otherwise felt fine.
Shortly thereafter, that would change. While getting ready for bed, Oakley mentioned to his mother that he was having some pain in his chest, but his breathing was fine. About 15 minutes later, Oakley came to his parents' room, complaining of a stomach ache and suddenly, he needed to vomit. He vomited again. At this point, his breathing was deteriorating and his mother set up the asthma nebulizer and prepared to give him prednisone. That's when Oakley cried out to call 911.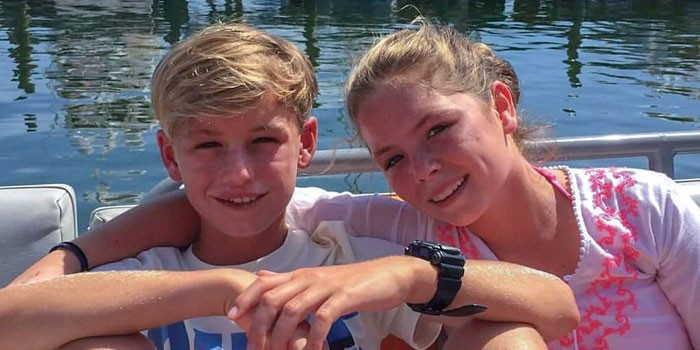 Seen here with his twin sister Olivia, Oakley's favorite shoes were a pair of red Nike's. His family chose this as the powerful symbol of the nonprofit organization created in his honor.
The EMTs arrived quickly but Oakley's blood pressure had dropped and he suffered a heart attack and fell unconscious. The EMTs gave the boy two successive doses of epinephrine. Unfortunately, this was well over an hour after he had eaten the cake. Oakley later died in the hospital from this severe reaction.
The greatest heart break comes from knowing that with better awareness and understanding of Oakley's allergies, perhaps this tragedy could have been prevented.
The Debbses feel they were not adequately informed of the risks of food allergies by their allergist's office. They own an epinephrine auto-injector, however they indicated they were not aware that antihistamines, such as Benadryl, do not stop systemic symptoms, and that epinephrine is the only first-line drug for anaphylaxis.
Oakley had numerous allergy triggers—from pollens, to cats, birds, feathers, and dust mites. And he had also tested positive to nuts and peanuts. Other than strict avoidance, he and his parents weren't given much information about food allergy management. They knew how to treat his asthma which was treated daily. But that's all they knew.
Oakley's story doesn't end with his death. The Debbses honor his life and his legacy through RSFO, established the day after his passing.
The mission of the nonprofit organization is grounded in the sense that far greater education and communication between allergists and children's parents is desperately needed. The foundation is dedicated to education and advocacy for food allergy awareness across the globe and to have legislation passed called The Oakley Law. The Oakley Law will require all institutions, including schools, police, and first responders, to have epinephrine wherever there is a defibrillator, and that those working with children need to understand, recognize, and be trained in how to respond to anaphylactic shock.
Oakley's favorite shoes were a pair of red Nike's that he wore daily. When participating in his favorite sports, such as soccer and football, he would wear red cleats. Other than being the powerful symbol of RSFO, the red sneakers represent a movement on the dangers of food allergies and how to recognize a severe reaction.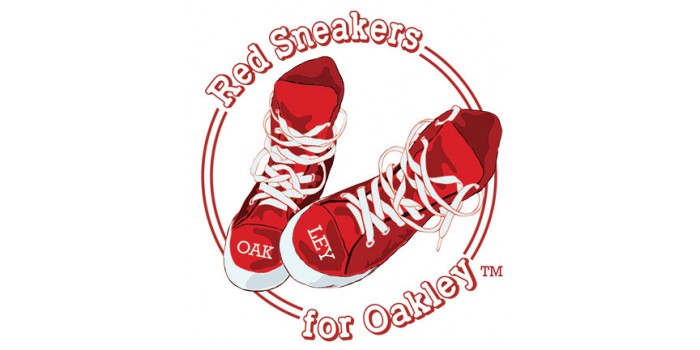 "One in 13 children in the United States have food allergies and the numbers are only getting higher," explains Merrill and co-founder of RSFO. "We want the public to understand that food allergies do not have a cure. Every household and school need to have an emergency plan and need to have epinephrine, such as an EpiPen or AUVI-Q, as a safety precaution. Changes need to be made in our country."
Since its establishment, RSFO has gained national exposure through supporters wearing red sneakers and has launched a multi-pronged approach to enable its mission and mobilize people to take action.
As well as marking the end of food allergy awareness week, this year May 20th marked the inaugural International Red Sneakers Day. Children, adults, celebrities, and athletes wore red sneakers and posted pictures on social media to support, advocate, and bring awareness to RSFO's mission.
Merill says that she received calls and messages via social media from mothers and families not only from the United States, but also Dubai, New Zealand, Norway, Australia, UK, Germany, and Serbia, thanking her for spreading food allergy awareness.
To further spread the message of RSFO, the Debbses have been featured on The Today Show, WPTV, WPBF25, and WFTV9. RSFO also holds events throughout the year to spread awareness and raise money for the cause. Over 75 schools in the U.S. have also participated in Red Sneakers Day or held their own school events through which teachers provide information on allergy awareness.
If you are looking to get involved, Merill asks that you wear red sneakers, post photos of you wearing the sneakers on social media to spread the word, or to donate to the cause to support more research into finding a remedy to the life-threatening condition.
Local supporters can also attend a dinner at Club Colette on Palm Beach on November 29th, a Sip n' Shop event at Michael Kors on Worth Avenue on November 30th with 15 percent of proceeds going to RSFO, and on December 1st, Oxbridge Academy welcomes the organization to use their field for the 3rd Annual Memorial Soccer game that will be hosted by the Town of Palm Beach.
Oakley will forever be remembered as an 11-year-old, straight A student with a bright personality and ready smile. His legacy lives on through the mission behind RSFO and support for ongoing awareness and education. To learn more visit www.redsneakers.org. 

Education Fueled By Tragedy