Calvary Church Breaks Ground on New Next Step Ministry Center
Calvary Church Breaks Ground on New Next Step Ministry Center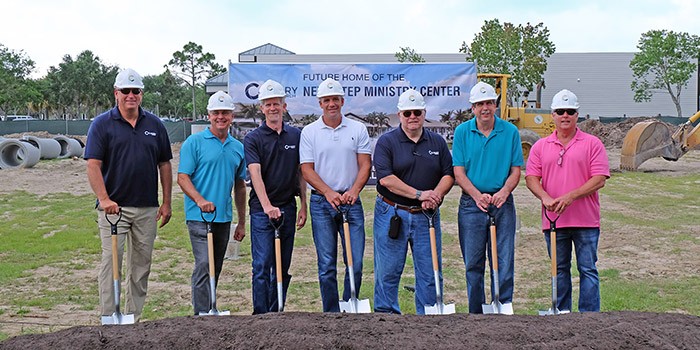 JUPITER, FL
– April 25, 2018 – Calvary Church held an official groundbreaking ceremony for its Next Step Ministry Center on Sunday, April 22. Hosted by Calvary's Board of Directors, Pastors, and Staff, the celebration honored the construction launch for a 35,000-square-foot facility that will double the church's capacity and ability to impact its congregation and beyond. The event was held after Sunday services and featured a picnic and other family activities.
"For us, the church is not a building; it is the people that make up the church, and our desire is for everyone who enters our doors to experience the life change of God's grace and love," Pastor Dan Plourde remarked. "Marriages will be restored, addictions will be overcome and lives will be transformed. Currently, we partner with multiple ministries in our area like food banks, after-school programs, and teen pregnancy centers, and we look forward to expanding these opportunities as we take our next step as a church. We want everyone in our community to have the hope that we have in Jesus and to share His love with their friends and family."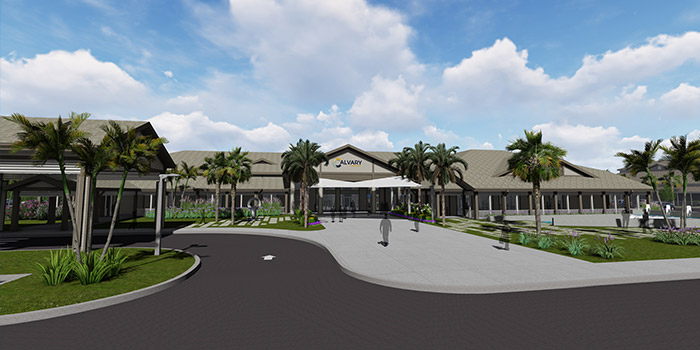 The Next Step Ministry Center will house a 750-seat auditorium, a Welcome Center for new guests, a Resource Center with weekly teachings and other publications and an expanded Café space. In addition, the Center will provide a secure, centralized location for all preschool and elementary children, which has been desperately needed due to the Church's growth over the last 20 years.
Aesthetically designed to fit into its natural surroundings and existing nearby buildings, the Center will feature a number of family-focused amenities, including a covered drop-off/pick-up location as well as expanded common areas for fellowship opportunities.
Located at 10100 West Indiantown Road in Jupiter, FL, Calvary Church provides a warm, welcoming environment for people from all backgrounds and of all ages, regardless of where they are on their spiritual journey. Founded in 1997, the church ministry follows the Calvary Chapel methodology of teaching the Bible verse-by-verse, chapter-by-chapter, with a dedication to single and married people, parents and children.
Contact Details
Name: Penny Cummings
Email: Email Us
Phone No: 561-747-6367
Calvary Church Breaks Ground on New Next Step Ministry Center