Be Your Boldest Self this Summer in Bold Beach Swimwear
Be Your Boldest Self this Summer in Bold Beach Swimwear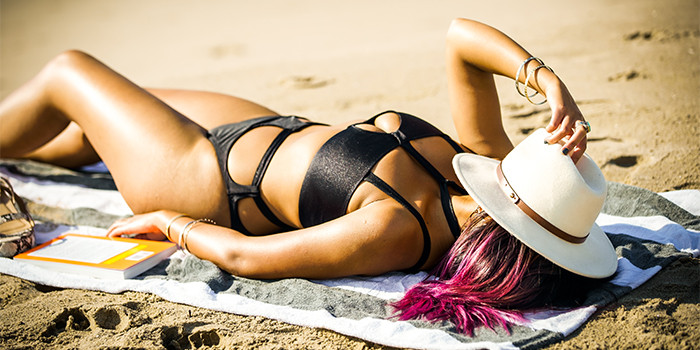 JUPITER, FL – July 29, 2022 – If you live in Florida, having a range of swimwear is part of your wardrobe staple. However, like so many women, finding the perfect fit always gets me in a fluster. Thank goodness all that beach body stressing is over since I discovered my go to swimwear, Bold Beach Swimwear.
Not only does it show off my figure in its best light, but the material is great, and the price is very reasonable. There are some fabulous colors and styles to choose from, but I stuck to the classic black and went for a bikini. Believe me when I say, that alone is a big step for me.
I tried on the 'circus top' (retail: $55) which has a front tie without any wiring. I was amazed that it immediately gave me an uplift. Now for the bottoms. I'm in my forties so I wanted something fun but not, "I'm trying to look like I'm a twenty-year-old', vibe. I decided to stick with the same theme as the top and went with the 'circus bottom.' The cut was just high enough on the leg and included a cute attached frilled skirt. Adding a touch of class, and an on point trend without looking middle aged. I truly feel like a goddess in this bikini. In fact, I'm leaving my desk early on Friday to head to the beach and show off my Bold Beach Swimwear.
About Bold Beach Swimwear
The swimwear to hug all of mama's curves! With individuality in mind, Bold Beach Swimwear swimsuits are stylish and designed to fit your body's needs. Gone are the days where you try on a top and wish it was tighter on the straps. Or a bottom and wish it had more coverage. Every swimsuit is adjustable to give you your perfect and comfortable amount of support and coverage. Each item has an adjustable feature and ranges in sizes from XS to 4XL.

Jupiter, FL
InFlorida.com
Formerly Florida Coast Magazine
Be Your Boldest Self this Summer in Bold Beach Swimwear