Aguadilla: The Battle for the Break
Aguadilla: The Battle for the Break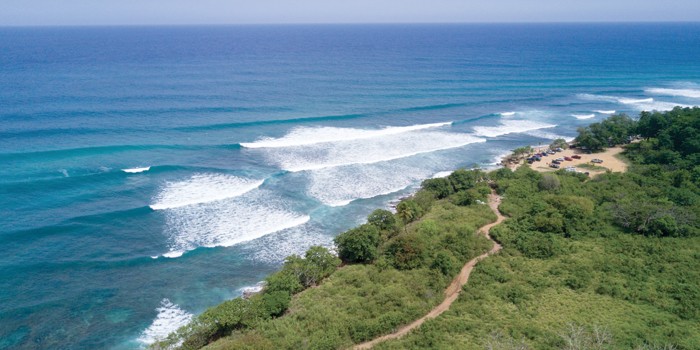 JUPITER, FL – August 28, 2017 – In Jupiter, Florida, there's no denying the prominent focus that the community places on environmental awareness and stewardship. The raw, natural beauty within its vast beaches, lush natural areas, and rare marine life ecosystems isn't something that Jupiter's townspeople and its council take for granted; as a matter of fact, their level of ecological appreciation can only be matched by their staunch willingness to preserve these staple sites, which practically define a way of life.

In order to accomplish this, residents go through the motions that beget a well-maintained environment. Being respectful of turtle nesting environments and making sure peers follow in their footsteps, or idling through the No-Wake zones of the Intracoastal Waterway to ensure the protection of manatees—these efforts contribute to the bigger picture: Environmental preservation. From our land to our shores, there is a distinct responsibility to our waves and to our wilderness, yet this is a movement that extends beyond Jupiter—or should.

A MISSION

The same emphasis in ecological preservation reverberates in the West Coast of Puerto Rico, just over 1,000 miles southeast of our Florida coast, where clusters of residents of coastal towns gravitate to these environmental responsibilities on a daily basis. In the Village of Aguadilla, an oceanside heaven for surfers from near and far, there's much stock put into natural resources by the people who inhabit the town. While its people vigorously encourage tourism as an evident boost to their economy, they know that it can also come at a great price. Playuela and Playa Borinquen encompass a unique area in Aguadilla with at least 11 world-class surf breaks—such as Wilderness, Surfers Beach, Middles, and Taple Top—that is constantly under threat by groups of developers who look to break ground on monstrous hotels that will not only curb the appeal of the surf tourists that love to visit, but disrupt the balance of nature as a whole. During a recent trip to Aguadilla that involved surfing these breaks and investigating these potential ecological disturbances, five Jupiter-based individuals sought to contribute their own voice to the cause and lend a helping hand.

For surfers Jim Tolliver, Jensen Callaway, and Jorge Bezold, who constituted part of the group, Aguadilla is a commonly visited spot; a home away from home. InJupiter's Doug Commette and photographer Bob Baggett followed the trio to catch a few waves, take in the view, and support the local community by covering an issue that has been affecting the people for decades.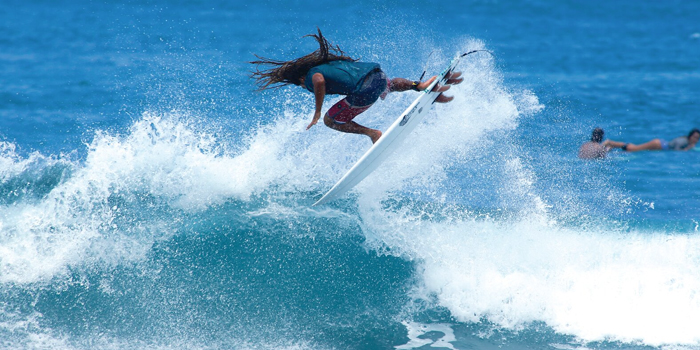 Prominent Jupiter surfer Jensen Callaway grabs some air during one of the Aguadilla trip's sessions
Jim Tolliver charges down a beautiful water wall; From resplendent oceanfront sceneries to ancient ruins, Aguadilla presents a unique experience to surfers, as well as nature and wildlife enthusiasts, on a global scale


PLAYUELA
To locals, the beaches of Playuela have become an undisclosed heaven-on-earth for people from all walks. Nature lovers can observe the endangered species living under the waves, or the rare birds flying in between the coconut palms. Visitors looking for a place to unwind can watch the sunset and observe the surf break on this ecologically imperative piece of the land. The only problem? This self-proclaimed wildlife preserve is currently owned by a large company, who since the 1990s has been planning a massive resort development. According to www.SavePlayuela.org, the new development would be equipped with a "condo/hotel of over 800 units, a 17,000-square-foot casino, a 34,000-square-foot convention center, and three restaurants, along with two multi-level parking buildings of four stories each." The original plan included jetties and piers, and even an aquarium and a theme park. This development plan also comes complete with its own highway to allow for easy guest access.

The local government has proposed moving forward with this project, which could potentially ruin the balance of nature in more ways than one. The Christopher Columbus Landing Resort was first proposed in the mid-1990s, with the aim to boost tourism and create a vacation hot spot for visitors. The 140-acre mega-complex would cost an estimated tens of millions of dollars, if not much more. While the government is ready to build the resort to bring in tourist dollars, local residents, beachgoers, and surfers are not so fond of the idea.

As one can guess, this development hasn't had an easy time coming to life. In the past twenty years, groups and organizations have fought hard to resist the project and create awareness for the land and its proposed downfall. Over the years, there have been plenty of court battles and numerous protests, and the original developers lost funding despite being in possession of all of the proper permits to access the land. However, one group is pushing back to make a difference: La Liga Ecológica del Noroeste.
"Most people who come here don't want to stay in a fancy hotel anymore. They want to experience things locally, and we love to host people."
Time to paddle back in as the sun goes down over Middles, one of Aguadilla's finest surf breaks; As an advocate for authentic tourism, local Josie Graves looks to show those who stay at his lodge, Ocean Avenue Guest House, a piece of the "real Puerto Rico;" InJupiter's Doug Commette (middle) and Jim Tolliver (left) spend some time with local Ernie Alvarez at Surfers Beach

La Liga Ecológica del Noroeste was founded in 1992 by local resident Kathy Valentine Hall, a prominent local surfer and activist with her eyes set on protecting the natural resources of Aguadilla and the surrounding areas.

InJupiter sat down with Kathy to discuss the process that she and many others have experienced while trying to combat the turning over of the land. She reveals that some residents believe that this structural development will help them economically in that it will bring more jobs to the area and tourism will increase. However, Kathy quickly debunks this idea. "The development will hurt tourism and the environment. This resort is a huge project. They won't be bringing in local sources to do the work, they will bring in construction workers from all over..." Giovanni Ricci, a local resident, a friend of Kathy, and an advocate for Save Playuela says "It will destroy what everybody comes here to do which is to enjoy the resources and surf."

However, this wouldn't be the first time Puerto Rico has seen the process that comes with new resorts focused on bringing in tourism. While sitting on the beaches of Aguadilla, InJupiter spoke to local legend Ernie Alvarez to gain a better understanding of the cultural history of the island and its direct relentless focus on tourism. Alvarez is the executive director of Puerto Rico Surfing Federation, and a local big-wig when it comes to the battle against development of the beaches that overlook the surf breaks.

"The main problem in Puerto Rico is that if you go back in history, there are a lot of 'Playuelas,' or unsuccessful developments. Big hotels go up and block the waves and the breaks, and keep people from going to some of the most beautiful places."

Aguadilla locals do not take their surf breaks and natural wonders for granted, which is why they strive to promote ecological preservation. They partake in organizations that stand for movements against entities that could harm their unique ecosystems via land development.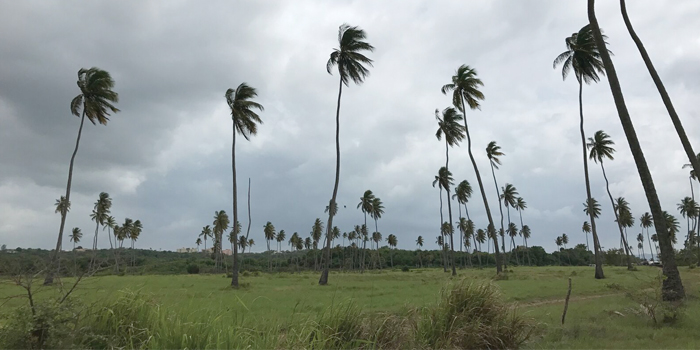 The natural areas and marine ecosystems of Aguadilla's Playuela are under threat by a potential land development


BORINQUEN

Playa Borinquen is a public beach in a location almost indistinguishable from Playuela. They are so close in proximity that it is hard to believe that Borinquen is facing an issue opposite to that of its undeveloped counterpart. The truth is, Playuela resists unnecessary development, where Borinquen lacks necessary development. InJupiter discussed this with Mario Torres, founder of Rescate Playas Borinquen, a non-profit group set up with the intention to clean the area and restore it back to it's familial glory. A few years ago, Mario Torres experienced first-hand the lack of care going into the Borinquen area. The shrubs and trees lining the roads were well overgrown, scratching the sides of any vehicle with a wish to make the drive down to the pothole-covered parking lot. There were no trash cans, no maintenance, no signs, and no picnic tables. What was present however, was crime, homelessness, and break-ins. The first step in realizing the parks potential came on Mario's birthday one year, when in place of gifts, he asked all of his friends to spend the whole day cleaning up the area and creating a space where people could visit and feel safe, pushing towards the goal of a balanced coastline. Although they are very different, as Rescate Playas Borinquen is a non-profit to restore the park, and Save Playuela is an organization to save the environment and resist development of the area, they both require attention and support. And for the Jupiter locals that made the trip, one of their purposes for being there was to understand the people and their mission to share with InJupiter readers.

| | |
| --- | --- |
| | |
Local surfers and activists (from left to right: Lilac Alvarado, Kathy Valentine Hall, Giovanni Ricci, and Javier Fernandez) discuss their own insights on ecological preservation of Playuela and Borinquen. CLEAN IT UP: Locals understand the beautification potential of the area that surrounds and leads to Playa Borinquen

SPEAKING UP
Josie Graves is someone who understands first-hand the need for authentic tourism. He is adamant that tourists want to experience the genuine Puerto Rico, not the cookie-cutter version that developers have drawn up on a blueprint. Josie and his brother Dylan are professional surfers that reside on the beaches of Isabela, just outside of Aguadilla. They run Ocean Avenue Guest House Puerto Rico, a lodge for surfers and adventurers alike. Since Josie has grown up in the area, he has gotten to experience the fight for Playuela, as well as being involved in Rescate Playas Borinquen with Mario Torres. Josie's emphasis and hope is that the new maintenance and development will bring people, specifically surfers and eco-tourists, to Aguadilla—these are the people who truly feed Aguadilla's stable economy. "I want to focus on bringing tourism to the locals, not to the corporate companies," Josie states.

Even Kathy Hall chimed in on the topic of true local tourism; "Most people who come here don't want to stay in a fancy hotel anymore. They want to experience things locally, and we love to host people."

With so many areas of environmental and ecological importance, there is no denying that the local residents are ready to embrace the new wave of tourism that deviates from the resorts and casinos. They want to offer the genuine experience of eating, diving, surfing, and lodging locally. And the biggest way to support this cause? To visit, and if you can't visit, a generous donation through the organizations' websites can certainly make an impact. Take it from five guys who already experience paradise back at home.

For more information visit
www.RescatePlayasBorinquen.com
and
www.SavePlayuela.org
. Both organizations have pages set up where you can donate to support their efforts and read about the latest progresses.

Aguadilla: The Battle for the Break