Roger Dean Chevrolet Stadium's Pirate & Princess Night to Benefit Little Smiles
Roger Dean Chevrolet Stadium's Pirate & Princess Night to Benefit Little Smiles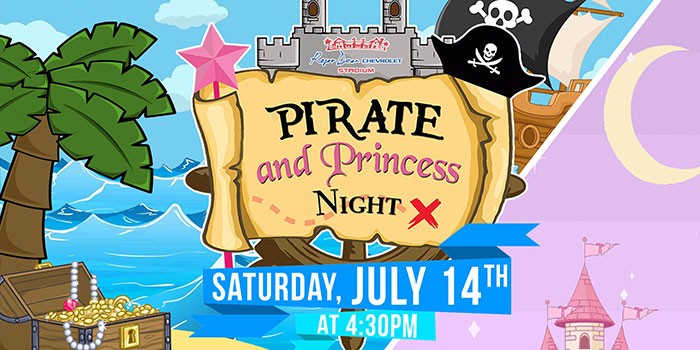 PALM BEACH GARDENS, FL – July 11, 2018 – For the first time the annual Pirate and Princess Night at Roger Dean Chevrolet Stadium will benefit Little Smiles, a South Florida nonprofit organization that helps children in local hospitals, shelters and other facilities.
The pirate and princess-themed event, presented by Gilbane, will take place Saturday, July 14 starting at 4:30 p.m. The evening includes a firework show, character meet and greets, bounce houses, face painting and a variety of fun activities for kids and adults.
The Jupiter Hammerheads will take on the Charlotte Stone Crabs at 6 p.m. with a game entwined with pirate and princess fun, including a pirate vs. princess first pitch competition and more.
"Partnering with Little Smiles makes our Pirate and Princess Night a true community event," says Jamie Toole, General Manager for the Jupiter Hammerheads and Director of Corporate Sales for Roger Dean Chevrolet Stadium. "We get to make kids smile inside and outside of the ballpark."
Tickets for the event are $10 through the Little Smiles website (littlesmilesfl.org/pirate-princess-fest). A portion of the proceeds go directly to the local children Little Smiles serves.
Tickets to the KVJ Show VIP Cool Zone are $50 for adults and $15 for kids. VIP entry includes a ticket to the game and entry into the VIP section with food (and drink tickets for adults).
"We are so appreciative of this opportunity from Roger Dean Chevrolet Stadium," says Little Smiles Board President Chip Lubeck. "What an incredible way for more people in our community to get to know Little Smiles and see the impact we have in the lives of local children who are hurting."
About Little Smiles
Little Smiles helps heal hearts and create little smiles by providing gifts and fun activities to children impacted by serious illness, homelessness or tragedy. Little Smiles is a South Florida nonprofit organization that partners with nurses, social workers and staff in hospitals, shelters and other facilities to provide wish fulfillment and celebrations for children in their care. From hospital room pizza parties and visits from Santa to its grand "Stars Ball" gala, Little Smiles gives kids the chance to be kids during difficult times.

Contact Details
Name: Stephanie Duesing
Email: Email Us
Phone No: 407-721-4633
Roger Dean Chevrolet Stadium's Pirate & Princess Night to Benefit Little Smiles