Paddling On
Paddling On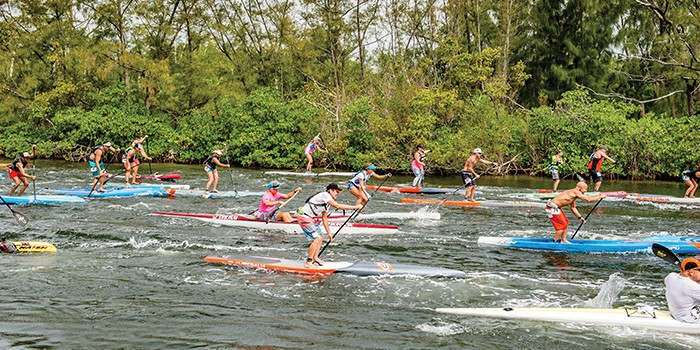 JUPITER, FL – September 5, 2017– Stand up paddleboarding — or SUP as it is often referred as—seems simple. From afar, it looks like a modest activity that doesn't require much effort. It turns out, that with proper instruction, it can be as easy as it looks. SUP uses something resembling a surfboard, but it is usually longer and made with fiberglass, plastic, or inflatable rubber to combat wear and tear from different bodies of water. A paddle is used to help the paddler glide through the water, accompanied by surfboard-like fins on the board to help you move.
The process is similar to surfing, except you never sit down. Start out on your knees, and once you travel far enough into the water that your fins don't hit the bottom, stand up slowly, one foot at a time, staying in the middle of your board with your feet parallel. Once you master your balance, keep a slight bend in your knee, and concentrate: The main element of SUP is focus.
And it's that focus component that has made SUP so popular in recent years. It all started with Laird Hamilton, a Maui surf legend, who took his surfboard and a canoe paddle and went out into the ocean, looking for a method of cross-training in between surf competitions. After a time standing on his board, he realized what a great workout it was, and voila! SUP was born. The true start of paddleboarding dates all the way back to the days of warriors, where fighters in Africa used the method to perform sneak attacks on enemies. Eventually, paddleboards morphed into the recreational realm, used by 16th century Hawaiians to battle large waves when surfing, and then to lifeguards in Tel Aviv, who used them to travel through water quickly and efficiently.
But it's the 20th century where it really gained its popularity and reputation for exercise—thanks to the aforementioned surfer, Laird Hamilton. Hamilton first introduced the sport in Hawaii, where he lived next door to John Denney, the man who eventually brought SUP to the East Coast, specifically right here to Jupiter.
Now, John Denney is often referred to as the Jupiter guru of paddleboarding, and for good reason. After learning the sport from Hamilton and seeing how much his own wife enjoyed it, when Denney and his family moved from Maui to Jupiter in 2007, they introduced the stand-up sport to East Coasters. "When my family moved here, we were the first people to bring it to the East Coast," says Denney. "We had containers of paddleboards with us." Denney opened his own paddleboarding business (that he no longer owns) called Jupiter Paddleboarding—but it was through YouTube where he truly got the word out. With over one million views, his "SUP Instruction" video is one of the most-watched SUP how-to videos, further highlighting his status as the founding father of East Coast "SUPers."
Before he became a water-sport aficionado, Denney got his start in acting. He grew up on the East Coast, moving to California to pursue an acting career. There, Denney worked on a variety of surf films ("James Bond," "Riding Giants," "Step into Liquid") as a cameraman, and in 2001, he was on-screen in a surf documentary called "Ride the Wild Surf," and it was during that film where he truly got a taste for surf life—launching his interest in water sports and eventually helping to create similar activities to SUP, like kite surfing and foil boarding.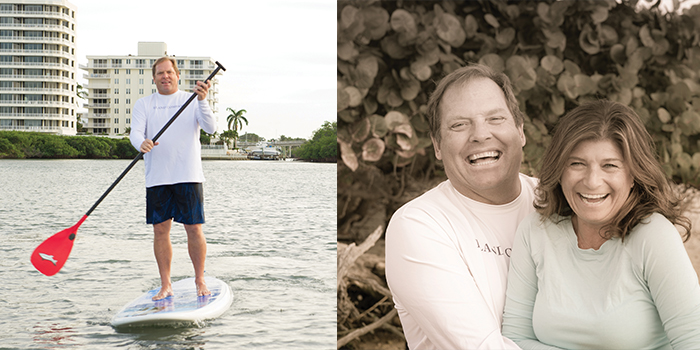 And while the sport is a big part of Denney's life, it's the benefits that come from it where he really finds his strength. Denney received his Masters Degree in Psychology from Pepperdine University, and today he uses that degree to create a mind-body experience with the water.
"Before I did paddleboarding out of Maui, I had a little coaching practice called Brainstorm Maui, where I worked with athletes and individuals," says Denney. "Since paddleboarding has grown, I restarted that practice here in Jupiter, showing athletes and individuals how to control stress and how to breathe correctly."
Even further than breathing techniques, Denney and his wife, Bari, created an entire exercise meant to calm the mind called the "Harmony Exercise." A moving meditation, the practice can be done anywhere (yes, land too!) and in as little as ten minutes. The purpose is to reset the body with breathing, relaxation, and harmony tones, creating a feeling of gratitude, relaxation, and overall calmness. Done alone or as a couple (although Bari advises trying it individually first), the Denney's have merged their two sectors of expertise into one, using SUP as a method for a mind-body connection.
"SUP gets you in the present moment," says Denney. "People go for a two-hour paddleboard and they can't believe the two hours are gone [so quickly]." Their method of teaching creates a whole new world of exercise, giving people a similar sense to yoga: feeling calm and getting toned all in one take.
"Its very addictive because it's one of the best stress relievers," says Denney. "It puts you in the present moment and requires your full attention; it's really like walking on water—it's a spiritual experience for a lot of people."
Going beyond the inner mind, Denney is also a certified Heartmath provider. Heartmath studies the power of the heart and uses bio feedback equipment to teach self-regulation skills, focus, and breathing techniques. It uses the idea that the heart is the second brain, and if used correctly, can do wonders to the body. In the academic world, students who use Heartmath have seen improved test scores, increased focus, better listening skills and memory recall, and higher levels of comprehension. For athletes, the results are similar, giving tennis players an increased level of focus, lacrosse players more coordination, better timing for golfers, and a better sense of balance for volleyball players.
It's these physiological methods that have expanded Denney's practice with paddleboarding. "Heartmath is a big part of what I've been doing," says Denney. "[It's a] real holistic coaching practice that has worked hand-in-hand with how I teach paddle boarding."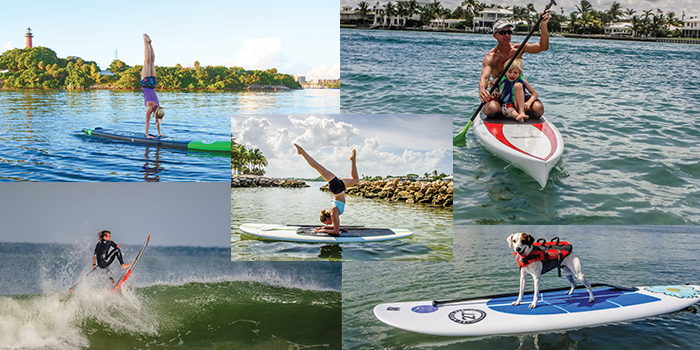 Whether people are looking for that uplifting mind experience, or just simply want a good, unique type of workout, it's clear to see why SUP is so popular. In just the last ten years, SUP has become the fastest growing water sport, spreading across the country and expanding to tailor to all types of people. Today, you can practice SUP in any body of water, from oceans and lakes to rivers and bays (you can even do it in a swimming pool), and in a variety of different forms. If you love yoga or Pilates, take it to the ocean. They now make paddleboards specifically for yogis, with wider circumferences and more cushion for poses. Fancy yourself a fisherman? Leave the dock and get right into the action by fishing on a paddleboard, with boards big enough to hold all your fishing gear. Plus, racing SUPs for those who want to get competitive, touring SUPs for long distance rides, and even inflatable SUPs so you never have to travel without one. No matter your skill level, there's a paddleboard tailored perfectly for you.
And, lucky for us, paddleboarding is especially great here in Jupiter. "Jupiter is ground zero for paddleboarding in Florida," says Denney. "Jupiter itself, if you look at it on the map, it's where the Loxahatchee River comes into the Intracoastal Waterway and the ocean, so we have fresh water paddling, we have brackish paddling, and we have saltwater paddling, everything from oceans to rivers, so it's an amazingly unique set up for paddleboarding."
More than just the great paddleboarding landscape, Denney's favorite things about Jupiter go beyond the ocean. "It's the first part where you come north from Miami where you get a little breathing room," he says. "There's more nature and green space; geographically, it's a beautiful place, and it's also a place where you have people who take care of their community."
Nowadays, Denney has found his forever home in Jupiter, teaching Paddlefit Certification classes, leading "Playing from the Heart" and "Mastering the Inner Game" workshops that help athletes control their tension and temper while under stress, and conducting inner game coaching sessions. Between all of this though, you'll still find him on a paddleboard.
"Paddleboarding is great exercise, but more than that it's this incredible mind-body experience that requires your full attention, full balance, and it just really empowers people. They see it and don't think they can do it and when they do, it gives them a sense of accomplishment."
Getting on a board in Jupiter is easy. Denney's previous company, Jupiter PaddleBoarding (jupiterpaddleboarding.com) is still around and offers all types of lessons and rentals, including private paddleboard lessons and tours. You can also stop here to buy everything you need to SUP on your own, from boards and paddles to car racks and accessories. There are other local places that offer paddle boarding rentals for an hour to a full day. You can also find yoga on the water, eco-friendly tours (where you can see the local wildlife), and SUP 101 for beginners. No matter what you choose, just be warned: a few hours out on the board and you'll be hooked for life.

Paddling On