Jupiter Medical Center Celebrates Philanthropy
Jupiter Medical Center Celebrates Philanthropy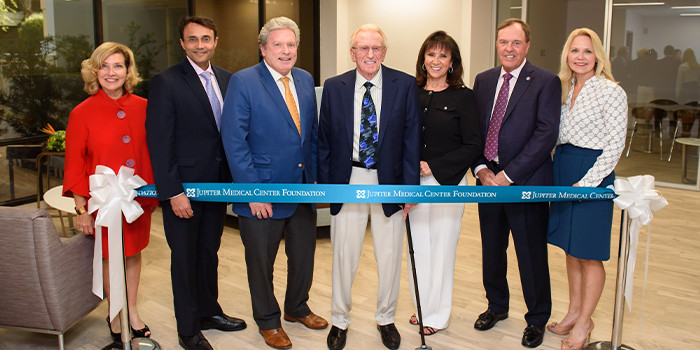 Jupiter, FLA. – Jupiter Medical Center will soon welcome patients through the new main entrance and 5-story patient tower. On Thursday, October 10, donors, administrators and dignitaries celebrated the philanthropy that made the expansion possible on two of the soon-to-be-open units located in the tower.
The 5-story patient tower will house the Level II De George Neonatal Intensive Care Unit (NICU), the James & Diane Perrella Patient & Family Resource Center, the Tansky Concierge Suites, and the Missy & Peter Crisp Cancer Unit for Women.
"Palm Beach County's population is growing in every demographic. And, thanks to the generosity of our donors, and the foresight and planning of our staff and administrators, Jupiter Medical Center stands ready to meet the region's needs," said Liv Vesely, president of Jupiter Medical Center Foundation.
"I'm excited to have joined the medical center at such an exciting time and look forward to working with the foundation and our donors to continue expanding our team of world-class physicians, highly specialized clinical programs, and investing in state-of-the-art facilities and equipment," said Dr. Amit Rastogi, president and CEO of Jupiter Medical Center.
The Level II De George Neonatal Intensive Care Unit will open on November 20, allowing Jupiter Medical Center to deliver babies as early as 32 weeks gestation. The 16-bed facility, outfitted with advanced monitoring, imaging and respiratory technologies, was made possible by the generosity of the Lawrence J. and Florence A. De George Charitable Trust and the Nicklaus Children's Hospital/Nicklaus Children's Health Care Foundation.
The James & Diane Perrella Patient and Family Resource Center, which will open in December, is proof of Jupiter Medical Center's commitment to provide compassionate care. Located on the first floor of the new patient tower, the center will offer private consultation rooms, a resource center and services to improve comfort and the experience for patients and their families. The Tansky Concierge Suites and the Missy & Peter Crisp Cancer Unit for Women are also expected to open in January.
The new entrance to the hospital and the 5-story patient tower are part of Jupiter Medical Center's $300 million Vision. Innovation. Impact. Campaign, which has funded the hospital's journey to becoming the top-rated medical center in the region.
About Jupiter Medical Center
An independent, not-for-profit, 297-bed regional medical center, Jupiter Medical Center is the first and only hospital in Palm Beach, Martin, St. Lucie, Indian River, Dade and Broward counties to receive a five-star rating for patient safety and quality of care – the highest ranking awarded by the Centers for Medicare and Medicaid Services (CMS). The ranking places the hospital in the top 7 percent of the nation's hospitals. In addition, the Leapfrog Group, a national healthcare watchdog organization, recognized Jupiter Medical Center as a Top Hospital and awarded the hospital an "A" in overall patient safety and quality care. World-class physicians, strategic partnerships, and innovative techniques and technology enable Jupiter Medical Center to provide a broad range of services, with specialty concentrations in neurosciences and stroke care; cardiac and vascular care; oncology; women's and children's services; orthopedics and spine care; urgent care; and other key areas. Founded in 1979, Jupiter Medical Center has approximately 1,689 team members, 650 physicians, 593 nurses and 640 volunteers. For more information on Jupiter Medical Center, please call (561) 263-2200 or visit jupitermed.com.
About Jupiter Medical Center Foundation
Since its founding in 1989, Jupiter Medical Center Foundation has empowered Jupiter Medical Center with the financial resources to reimagine the delivery of health and wellness to the region. Jupiter Medical Center Foundation, together with Jupiter Medical Center, is committed to transforming regional healthcare through leading-edge technology, patient-centered care and enhanced facilities. The Foundation has funded a number of major projects at Jupiter Medical Center, including the De George Pediatric Unit in partnership with Nicklaus Children's Hospital, the Margaret W. Niedland Breast Center, The Anderson Family Orthopedic & Spine Center, the Frank E. and Mary D. Walsh Robotic Surgery Program, and the Florence A. De George Pavilion.
As a leading, not-for-profit medical provider in the region, Jupiter Medical Center relies on philanthropic gifts to maintain patients' well-being and quality of care, and Jupiter Medical Center Foundation is dedicated to securing this financial support in order to fulfill the mission of the organization. For more information, please visit jmcfoundation.org.
Jupiter Medical Center Celebrates Philanthropy