Inspiration for a New Generation
Inspiration for a New Generation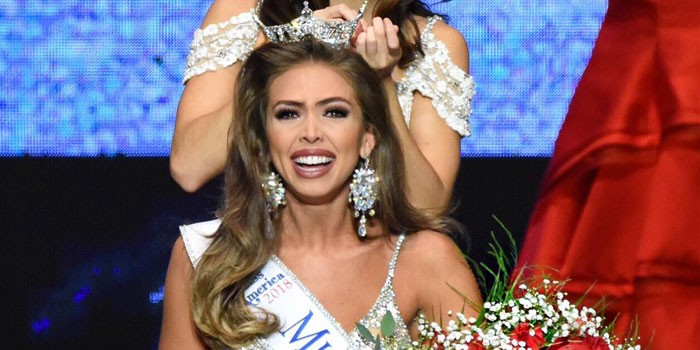 Meeting at Perk coffee shop in Tequesta, Taylor Tyson breezes through the door, in a pool of sun drenched glory. Immediately heads turn to look at the young lady, wearing an asymmetric navy and white striped dress with high heeled wedges. This twenty-three year old can make an entrance and suddenly there is an extra buzz in the air. Miss Florida has arrived in all her jaw dropping, stunning brown eyes, thick long hair, gorgeous glory. Don't be fooled, looks are a very small aspect of this young lady. Throughout the interview, all stereotypical misconceptions of a pageant princess are covered with sand, and are replaced with warmth, intelligence, and a wicked sense of humor. Miss Florida is a hurricane of enthusiasm and it is infectious. How did she start on this journey, and why should people sit up and take notice?

Growing up in Jupiter, what are your favorite childhood memories? When I think of Jupiter, I think of the beautiful beaches and the lighthouse. When I was eight, I tried to get on to a national public radio show called 'From The Top.' For my audition tape, I played the piano, then my Dad had this brilliant idea for me to climb all one hundred steps of the lighthouse. I even got a t-shirt to say 'I climbed all one hundred steps of Jupiter Lighthouse.' I couldn't believe it because I actually got on the show and now everytime I pass the lighthouse, I laugh to myself. It really was the start of it all for me.
How did you get started in pageants? My entire life all I wanted to be was a concert pianist, but I had really bad stage fright when I was young. My Dad saw an ad in the local newspaper for a local pageant in Tequesta, and he saw that a contestant was studying the same piece of music at fifteen, which I was studying at eight years old. He said "Taylor, you should do this!" I did and then I was hooked. It was great, without cash prizes, but scholarship money instead.

How does it feel to be crowned Miss Florida? It really is amazing, and it is only now, just sinking in. After I won it was so exciting. The next day I was up at 5 a.m. getting ready for my first TV appearance, and it's been so busy since then.

What causes are close to your heart and why? As Miss Florida and going for Miss America, we have a social impact category, where we talk about what is important to us. For me it's always been about empowering girls. I have been a mentor for girls for years, working with tons of charities, both locally and throughout the state, helping to equip girls with leadership skills. Now more than ever, it fits in perfectly with Miss America 2.0 and everything going on. Miss Florida is an example to pursue academics, personal goals, and placing personal value and character ahead of superficial things. With everything going on in social media and girls getting a warped sense of their own self worth, it's important they have strong role models that are removed from the celebrity, flashy side of things.

A strong role model with the right values, that's my cause. If I were to be Miss America, I think this would fit in with the new mission. The time is now for total equality, with the 'Me Too' movement and other causes being prominent.
Do you have any special exercise regimes? I never used to, but being part of competitions, I have to make an effort to be healthy and look after myself. I do this fantastic workout called 'Legree,' which is basically a blend of pilates and yoga on machines. I go to this impressive place called Core Evolution, which really prepared me for the Miss Florida competition. I was going up against girls that are athletes and dancers. I usually have my head in a book or playing the piano, so this aspect of the competition didn't come naturally to me. I had to work at it, and it has forced me to be more active and eat healthier. I come from a big Italian family, so whenever we have a chance to eat, we do. I'm a real foodie.

+ This OR That
---
Pink or blue? Pink
Circle or square? Circle
Burger or hotdog? Burger
Beach or pool? Beach
Movies or theatre? Theatre
Pasta or pizza? Pizza
Hot or cold? Hot
Dog or cat? Cats
Book or magazine? Book
Beer or wine? Wine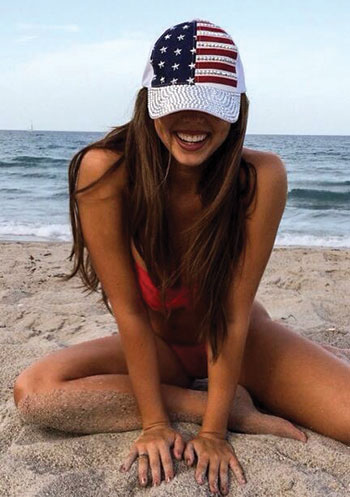 + In Her Purse...
---
"Before Miss Florida, I was always known for not having practical items in my purse, but now I always have..."
Hairspray... Travel size listerine... Starbucks card... Business cards... Tea (always need a tea) because not everywhere has good tea... All natural stevia sweeteners
What's the atmosphere like when you are taking part in a pageant? For the most part, everyone is very chatty and leans on each other. There is so much down-time during the seven to ten days you are competing against each other, you really get very close. It's not that you're best friends with everybody, it's just that the experience is so intense. You kind of need to lean on people that are going through the same thing. It's a unique environment and we are all in the same age group, all ambitious, all like-minded, and our values are very similar. It's empowering to be surrounded by people who are your peers and trying to accomplish the same kinds of things. There were forty of us at Miss Florida and there will be fifty of us at Miss America.

What do you think abut the swimsuit section of Miss America being taken out? Not everyone knows about the background of what happened, so I will just give a brief rundown from what I understand. Earlier this year the former head of Miss America, Sam Haskell, came under fire for some of his private emails, which were leaked to the public. He was saying some less than flattering things about the title holders and other women involved in the program. There needed to be a change in leadership, he stepped down and Gretchen Carlson (winner of Miss America 1989 & TV commentator), took over. One of the first things she wanted to do was take out the swimsuit part of the competition. Now there is a campaign going called Miss America 2.0, which is basically switching the focus from judgement based solely on looks and body, to refocusing on academics and community service.

I was actually the first local titleholder to speak out in support of this change, and I see both sides. I do appreciate the tradition, but I want to be an attorney for my future profession and this is not relevant to me. This change more accurately reflects who women are in society now.

Did they have the swimsuit contest when you competed for Miss Florida? Yes, they did. Actually that's one of the sections I won. The changes won't take effect until September, when competing for Miss America.

What do you want the rest of the world to know about Florida? Florida has a little bit of everything. We are our own little world, in a state, and the only thing we are missing is seasons. Some people think of Florida as Disney, or beaches, but we also have a huge agricultural industry. We are very multicultural, and we really have something for everyone. It's a huge state, which I never realized until I have recently had to do a lot of driving around from the southern tip, all the way up to Tallahassee. For me, it's hard to speak about Florida in a detached way, this is my home. I feel such a sense of community everywhere I go.
What are your plans for studies in the future? I had to defer law school for a year because competing for Miss America is a full time job. I was accepted to seven law schools around the country and Stetson in Florida.
As I wait to see how everything pans out, it will be interesting to see about Stetson. I want to be a criminal defense attorney, and Stetson has the number one ranked mock trial team in the nation. My Dad is an attorney and practices in Palm Beach Gardens. He inspired me to go into law because he is not your typical attorney, he really uses it to help people.
What happens to your studies if you win Miss America? Everything will get pushed back for another year. It's a win-win situation. If I get to be Miss America, I will embrace that honor, and if I start law school, that will be exciting too. Whoever wins this year, their speaking engagements will be guided towards culture, society, and politics, which I think are all really powerful. Our generation is missing out on really strong voices. If you turn on the news, you don't typically see someone of our generation being taken seriously. I think there is a real opportunity for someone like Miss America to be a great spokesperson for our generation.

What do you do in your free time? I don't have much free time at the moment, but when I do I love to go to one of our local beaches, which helps center me and calms me down. I also love funny movies, I love to laugh. My favorite movie, which I've watched at least twenty times is (Bradley Cooper's) Silver Linings Playbook.

If you were to have a dinner party and you could invite five people (deceased or alive), who would they be? My two grandmothers. I lost both of them when I was sixteen and they were a huge influence in my life. I would love to have them around, they were so wise. I would definitely have to have a composer. Franz Liszt had the most notorious and scandalous life, but he was a rock star in classical music. I would want to pick his brain about his compositions too. I think it would be crazy not to have our president, Donald Trump. I would love a actor like Jennifer Lawrence, but I would make sure she wasn't sitting next to Donald Trump. I would put the two grandmas between them to keep the peace.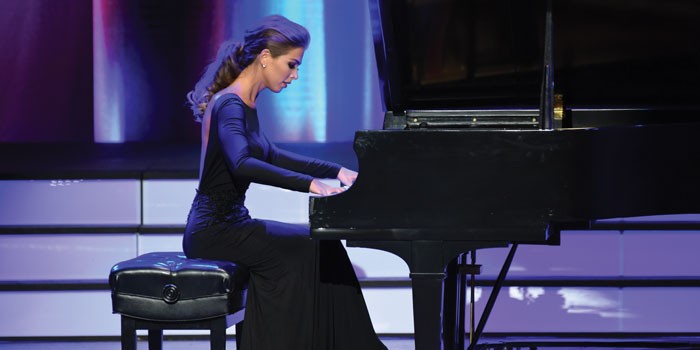 Classically trained since age eight, Taylor Tyson will be performing Mephisto Waltz for the competition.

You mentioned you play classical piano, do you have any favorite composers? Rachmaninoff is my all time favorite. His music is heartbreaking and beautiful. I love his piece "Daisies." For orchestra it has to be Shostakovich's Seventh Symphony.

What will you be playing for the Miss America Competition on September 9th? I will be playing 'Mephisto Waltz' by Franz Liszt. I love both Rachmaninoff and Liszt, for the drama. The funny thing is a lot of pieces can be 15 to 20 minutes long and we only have 90 seconds in the Miss America competition. So I basically had to go through and chop up this masterpiece, but leave all the flashy parts.
Are you superstitious or do you have any rituals before you go onstage? I have to pray before I go out on stage, maybe a bit obsessively, but that's the only thing that calms my nerves. I'm a faith based person in everything that I do. I think what's empowering to me is to put the power in his hands. For me, it takes the responsibility from micromanaging and controlling every little thing. I do my due diligence in the practice and lead up to the competition. Then once I get there, it's out of my hands. That calms me down like nothing else.
The funny thing is, before I go on stage, in my gown, makeup, and heels, I get on the ground and do a 30 second plank. I think all the girls backstage thought I was insane for doing this, but I'm always cold and it's really bad before you play the piano to be freezing because the arms and hands can be very stiff. The only thing that really warms me up is to get on the ground and do planks and pushups to get my blood pumping.

–
As the interview came to an end, I offered to buy Miss Florida another coffee. She politely declined and said she would pay as she wanted to treat her Mom to a Danish and a coffee. Tyler Tyson, truly has it all. She is intelligent, compassionate, fun, and a great role model. Florida is lucky to have her represent the state, so be sure to tune in to ABC on September 9th, airing live 9 p.m. EDT, and root for Miss Florida. 
Inspiration for a New Generation