Cool As Ice
Cool As Ice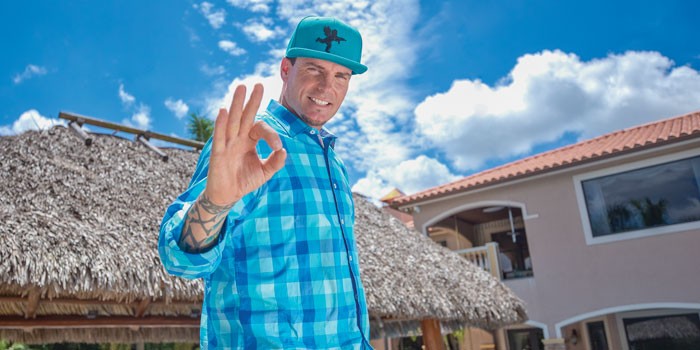 Alright stop, collaborate, and listen—Ice is back with a brand new renovation! That's right. Rob Van Winkle—the man most of us know as Vanilla Ice—has popped back up on the screens of home crafting and remodeling fanatics across the country and around the world with the premiere of season eight of DIY Channel's The Vanilla Ice Project.
For those of you who didn't know, Van Winkle, who first won over the '90s kids generation with his megahit "Ice Ice Baby," has kept busy over the years with a "side project," which revolves around real estate, home remodeling, and house flipping. Some would dare say that Van Winkle is just as talented in home building as he is at spitting rhymes and lighting up the stage. He doesn't just direct his crew members on what to do, Van Winkle loves to get down and dirty, pound nails, and operate the heavy machinery—to him, that's all part of the fun of the job.
We caught up with Van Winkle in Wellington, Florida, the filming location of the home that is featured on the new season, which premiered on August 11, 2018. While shooting the show, he has also found some time intervals to go on the road and perform in the "I Love The '90s Tour," a concert series jam-packed with celebrated hip-hop and R&B artists like Kid 'N Play, Biz Markie, Tone Loc, Salt-N-Pepa, and Coolio. On top of that, Van Winkle is also currently wrapping up filming for an autobiographical documentary called Wide Open; he gets summoned to appear in TV talks shows constantly where he oftentimes shows off his skills as a chef; he was seen doing the cha-cha-cha gracefully on Dancing With The Stars; and, of course, there's also the occasional Adam Sandler movie for which he is called in to participate. In summation, Van Winkle's schedule is as loaded as ever.
"I love being able to do this [flip homes and film the show] and then get away on the weekend and be a kid," points out Van Winkle. "But come Monday, I get up at 5 a.m., grab a coffee, and do construction and design the entire day. My brain is running a thousand miles an hour at the end of the day and I look forward to doing it again the day after."
As far as the homes featured in the new season goes,
Van Winkle singled out some of the state-of-the-art features that make these South Florida high-end residences stand out, such as a 2,000 square-foot closet equipped with rotating cabinets, a spinning 250-shoe rack, a coffee bar, and a stretch ceiling in the master bathroom that contains a semi-transparent image of St. Tropez, France.
THE CRIBS
His ongoing adventure in the real estate realm actually began inadvertently in the '90s after he purchased several homes in the U.S.: One next to Michael J. Fox in L.A.,
a snowboard ski getaway in Utah, in addition to mega-sized residences in Texas and Miami's Star Island. Since he was on tour for the greater part of four years, he didn't stay one night in these houses and, after a few years, opted to sell them—and turned a sizable profit!
"I thought to myself: 'It's that easy to make money in real estate?'" remembers Van Winkle. "I'm going to go buy some more!"
From then on, Van Winkle was—like the name of his first album—hooked. He became enthralled by building and designing, so he went to design school in 2000, started his own mortgage and real estate company, and began buying fixer uppers only to breathe luxurious new life into them and flip them in the market. In 2010, these renovations began to get televised in The Vanilla Ice Project. Van Winkle claims that it is exciting to partake on the evolution of a home—from the design portion to using cutting-edge technologies—and to bring the homeowner's vision of their dream home to solid reality.
"It's a passion of mine," admits Van Winkle. "I love turning these homes into the American Dream. I'm all about decorating and designing spaces for people that look to raise a family there, renew their wedding vows in the backyard, or watch their children run up and down the street while growing up. It's about matching that with the latest and greatest technologies in home design to inspire people and impact their lives."
"It's exciting to partake in the evolution of a home—from the design portion to using cutting-edge technologies..."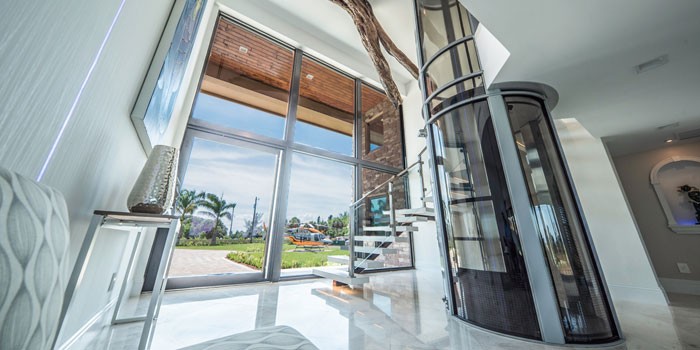 By Dave Settgast - Treasure Coast Sothebys Int'l Realty
For more property pictures | www.davesettgast.com
THE SPOT
Although Van Winkle works on different homes around the country in places like Queens, New York, Dallas, Texas, and even in Amish Country, Ohio, Palm Beach County isn't merely a stop in his circuit, this is home.
"You really find the lap of luxury here," notes Van Winkle. "It's also a good nucleus for great sights, people, and restaurants. With the [flipping of the] homes, it's all about fishing in the right market—and this is it right here. I've lived here for so long and know what South Florida living at its best looks like. People that buy homes from me usually give me feedback on how great their home is; how they won't change a thing. It feels good to make my neighbors happy and here I continue to be inspired."
For those of us who have lived here for a while, you might have caught him moseying around West Palm Beach's Clematis Street, or performing alongside a cluster of children and maybe a few dancing "Teenage Mutant Ninja Turtles" at the annual Vanilla Ice Block Party, an event which benefits two charities: Toys for Tots and Little Smiles. This year will mark the 14th consecutive year of the Vanilla Ice Block Party, usually held in Wellington.
"Smiles are contagious—so I like to help spread them," says Van Winkle with a decisive nod. "Being able to generate funds that go to helping children is a wonderful thing, and it's ultimately what the 'Block Party' is all about."
Van Winkle also immerses himself in community participation by attending award events and festivals held by the Palm Beach County Film & Television Commission (PBFTC). At this year's Student Showcase of Films award ceremony, the PBFTC paid homage to Van Winkle by naming the award for best music video given to film students "The Vanilla Ice Music Video Award," which the TV star/rap icon bestowed to the winners Matthew Baquero and Elias Zouak from the University of Florida for their video, "Till They're Back."
THE SMASH HIT
Before Van Winkle bought, remodeled, and flipped homes alongside a camera crew capturing every nuance of his process and before he became a staple personality of a South Floridian community, he was a 16-year-old boy from South Texas with
a song he put on paper. He was without the "faintest of notions," he claims, that this song, which was actually the B-side to Van Winkle's cover of "Play That Funky Music"—the legendary "Ice Ice Baby"—would become the first hip-hop single to reach #1 on the Billboard charts and help sell over 163 million of his records. "Ice Ice Baby" did just that with major national and international airplay that garnered a gradual following that sent Van Winkle's career into the stratosphere at the beginning of the '90s. In 1991, the track received the People's Choice Award for "Best New Song," as well as a Grammy nomination, and Van Winkle was recognized with two American Music Awards: "Favorite Rap/Hip-Hop New Artist" and "Favorite Pop/Rock New Artist."
"Honestly, I had a weekend that lasted a few years," admits Van Winkle. "It was like a snow globe effect that shook all around me. 'Ice Ice Baby' simulated the '90s: The dancing, the ridiculous outfits, the ripping out our back seats and putting subwoofers in, the getting movies at Blockbuster, all of it. We definitely didn't take ourselves that seriously in the '90s, and I miss that. But when it all settled, I wanted to figure out my next move beyond music—my purpose and meaning in life— and real estate felt like a natural calling."
And what a calling it turned out to be. In fact, Van Winkle found the construction life to be just as lucrative as his music career. Now, with over 100 episodes under his belt, his show, The Vanilla Ice Project, is one of the most watched shows on the DIY Network and has raked in prestigious accolades such as the Telly Award, the Factual Entertainment Award, and the Hermes Platinum Press Award. His knack for home improvement proved to be a resilient tour de force that has kept him successful, and between a mic and a hammer, Van Winkle found the right balance. Through his own experience, he proclaims a message of hard work that he insists on passing on to others.
"Stay on the grind—that's always my advice," says Van Winkle. "Know that nothing comes easy, so get up off the couch, get your hustle on, and follow your dream. Trust me, it makes you feel alive. We are here for a short period of time, so you have to make it a good time. Success is happiness."
Asked about his own goals, Van Winkle prefers to follow his own advice, stay grounded, and go with the flow while maintaining the same passion and positive attitude in every beat of the day.
"I just take it day by day and enjoy the ride," he says with a shrug. "I look at it like I'm surfing, every day I'm riding a new wave and wherever it takes me, that's where I'll be." •

Cool As Ice