Compassion & Conviction: A Look into Florida's VNA
Compassion & Conviction: A Look into Florida's VNA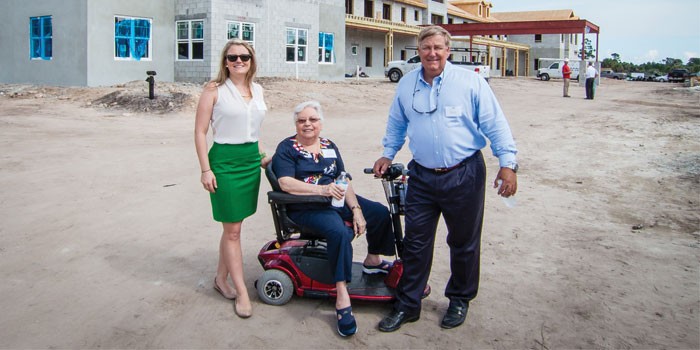 Recognized as one of the top home healthcare agencies in the area, the Visiting Nurse Association of Florida provides superior medical care and other professional healthcare services for Medicare and private pay patients in the comfort of their own homes. Also included in their repertoire, the VNA owns and operates three Grand Oaks assisted living communities and oversees an additional four communities, offers doctor house calls through Visiting Physicians of the Treasure Coast, and even gives back to the community through their charitable arm, the Visiting Nurse Foundation, which funds the Florence Nightingale Express, their 38-foot mobile medical clinic used to provide free healthcare to the homeless and indigent.
The woman behind this incredible healthcare agency, Patricia Quinn Crow, first established the VNA in 1976, humbled by seeing many patients being sent home despite still needing nursing or therapy services. Knowing at-home services was a growing need, Crow started the VNA of Martin County along with one nurse and one therapist in a small downtown Stuart office.
Through the years, Crow's granddaughter, Jennifer, found herself inspired by her grandmother's selfless care and determination to help others through the VNA. It is no surprise Jennifer decided to follow in her family's footsteps and is now Chief Operating Officer. Jennifer remarks her "grandmother's tenacity to manage the struggles of a startup and her ability to lead with compassion and conviction has had a lasting impact" on her management style.
Jennifer attributes much of the VNA's success to her father, Donald Crow, CEO. Through his hard work, the VNA was able to grow from three counties to 14, and eventually giving the VNA the ability to now serve 24 counties with an additional eight company subsidies under its wings. With such a strong role model as both father and mentor, it is no wonder her father's vision and execution has driven her to such high success as she constantly looks for new opportunities, never settling for the status quo.
Jennifer's days are driven by communication, constantly working with her executive team to reach new goals and ensuring VNA staff members across the state feel just as included as her staff members down the hall. When not caring for her team, Jennifer is caring for her 13-year-old daughter and newest member of the family, her four-year-old son recently adopted from China.
We in the South Florida community are honored to have such loving, selfless, and caring people in our healthcare industry. We are excited to watch as Jennifer Crow and the VNA staff continue to grow throughout Florida. •
Visiting Nurse Association of Florida (772) 247-6752 | www.vnaflorida.org

---
See the Business Behind the Story

Home Health Care Services
Jupiter, Florida, United States | 5617435060, email us
Compassion & Conviction: A Look into Florida's VNA