Big Dog Ranch Rescue Opens Center to Select, House, Train Service Dogs for Veterans with PTSD
Big Dog Ranch Rescue Opens Center to Select, House, Train Service Dogs for Veterans with PTSD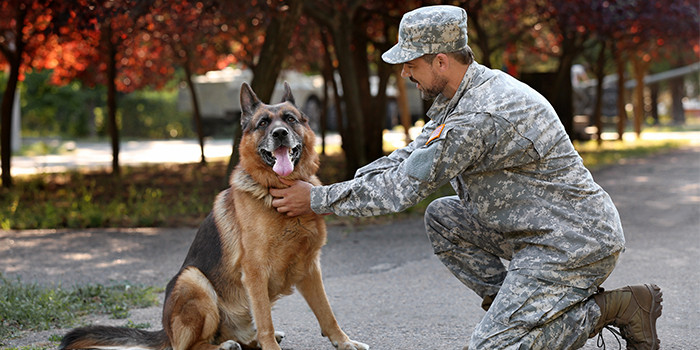 PALM BEACH COUNTY, FL – November 9, 2021 – Veterans Day this year brings hope and help to local Veterans who returned home with battle scars from serving our country. Big Dog Ranch Rescue is opening one of the few centers in the nation designed, built, and funded specifically to provide free service dogs to soldiers suffering from PTSD.
The Hoffman Family Veteran Dog Training Lodge will be used to select, house and train specialized dogs who will be provided at no charge to those suffering from battle trauma. The 4000 square foot state of the art facility will also serve as space to bring together and train the dogs and their new owners on abilities and commands designed to provide daily assistance to our wounded warriors.
BDRR Founder and CEO Lauree Simmons says the country needs more options to help those who were hurt while wearing the uniform of the United States, "When an injured Veteran returns home with PTSD one of the most effective treatments is companionship. There is no more loyal or loving companion than a service dog and my hope through this new center is to provide every suffering soldier the help and hope they have earned."
The dogs selected for the program are also being given new hope as they will all be rescues from natural disasters and abuse. It costs $10,000 and takes 12 to 18 months to complete service dog training. Now that the facility has been completed, BDRR Executive Director Robin Friedman says help is needed to fund the training for as many dogs as possible, "We hope the community, both businesses and individuals, will step forward to help us train and pair as many dogs as we can with our hero Veterans. Over the holidays our goal is to raise $100,000 to bring joy into the lives of both these rescued dogs and 10 hero soldiers."
**This Saturday the public is invited to a celebration of the New Hoffman Family Veteran Dog Training Lodge between Noon and 3 PM. This free event features music, dog training demonstrations, and a cook out with free food & drinks provided.**
About Big Dog Ranch Rescue
Founded in 2008 by Lauree Simmons, Big Dog Ranch Rescue saves dogs in distress from abuse, inhumane treatment and natural disasters. The ranch has saved more than 48,000 lives as the largest no-kill, cage-free rescue in the United States.
Community focused programs include services for Veterans and seniors. At the ranch each rescue is healed both physically and mentally, a philosophy that has resulted in an adoption success rate that is unequalled. The Big Dog Ranch Rescue Mission is to find every dog a loving home and to educate the public about proper care and the importance of spay/neuter. To donate, volunteer, sponsor, foster or adopt please visit: BDRR.ORG
Contact Details
Name: Chase Scott
Email: Email Us
Phone No: 561-644-1169
Big Dog Ranch Rescue Opens Center to Select, House, Train Service Dogs for Veterans with PTSD