3rd Annual Hang 20 Surf Dog Classic Returns Just In Time For The Holidays
3rd Annual Hang 20 Surf Dog Classic Returns Just In Time For The Holidays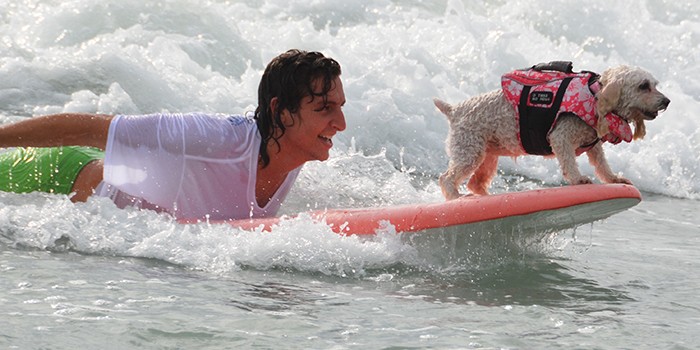 JUPITER, FL — November 20, 2017 – The holidays have gone to the dogs, at least they have in Jupiter, Florida. The rescheduled 3rd annual Hang 20 Surf Dog Classic sponsored by Jupiter Pet Emergency & Specialty Center is coming back to Carlin Park, Jupiter on Sunday, November 26th. Thousands of people are expected to line the beaches of Jupiter to watch the most spectacular surfers of all breeds compete in the annual Hang 20 Surf Dog Classic. Furry Friends Adoption, Clinic & Ranch of Jupiter has been rescuing, rehabilitating, and rehoming homeless animals in Palm Beach County for more than 30 years.
Schedule of Events:
Surf Dog Registration: opens at 7:45am, day of registration accepted.

Vendor Village: opens at 7:45am. Just in time to start your holiday shopping, the village will be filled with local vendors offering an assortment of items including pet related items and services. Support local by shopping local businesses including Bala Boutique, Off the Mat clothing, Kool Karma Bracelets, Turtle Towels, Talizmani, Lipsense, Summermatters Boutique, Surfs Up Gizmo, and many more.
Blessing of the Animals: Just before the dogs hit the water to compete, we will have a blessing of the animals at 8:15am for anyone who attends with their furry friend. A limited number of 150 medals will be given out. The blessing will be given by Catholic Priest Father Mike Peratta.

Holiday Pet Photos with Surfin' Santa: 8:30am-12:30pm. New this year, attendees can get their holiday pet photos with Surfin' Santa with a $5.00 donation.

Music on the Beach: 8:30am-1:30pm. From Steel drums in the vendor village to a live DJ, the event will have tropical sounds and classics to get you into the holiday spirit.

Dog Surf Heats: 8:30am-11:00am- There will be five heats beginning at 8:30am until 11:00am with categories for small dog, medium dog, large dog and stand up paddle boards as well as the new heat for veterans, first responders and K-9 officers and their dogs.

Bark and Brunch: Opens at 9am. With support from the sponsors and donations from local restaurants the brunch food and beverages will be provided by Carrabba's, Cod & Capers Seafood, Another Broken Egg, Tito's Vodka, Voga, and Oceana Coffee with a $7.00 donation.
Surf Awards Ceremony & Parade of Adoptable Pets: 11:00am-11:30am. Surf Dog Awards will be given out followed by a parade of adoptable furry friends.
K-9 Demonstration by Jupiter Police Department: 11:30am-12:00pm.
Cowabunga Kids Zones: Open from 8am-2:00pm in the Civic Center. Bring your kids to have some fun craft time in the kid's zone as local not-for-profits help to create dog and holiday creations.
"Furry Friends is excited that this year's event & fundraiser for our animals is shaping up to be the biggest and best yet. We're proud to offer a new heat for military veterans and first responders to get on their boards with their own pets and show off their surfing expertise. The Hang 20 is the most talked about event each year and we look forward to seeing the thousands of smiling faces from all over Florida and beyond" said Karen Counts, programs director of Furry Friends.
Sponsors include: Jupiter Pet Emergency & Specialty Center as the Presenting sponsor, Baum Family Animal Foundation as Philanthropic sponsor, Tire Kingdom as Promotional sponsor, Kathie Kaminske of Golden Bear Realty and Affinity Construction as the Bark and Brunch sponsor, DogsWorld as the Vendor Village sponsor, and Tito's Vodka as Stage & Band sponsor. Other sponsors include Campbell Property Management, Complete Property Maintenance, Inc., Floridian Community Bank, Healthepets, Bala Boutique, Rose Consulting, Cod & Capers, Palm Beach Parking, and Ocean Magic Surf Shop.
This event is a fundraiser for Furry Friends Adoption, Clinic & Ranch. It is free to attend and donations are recommended. To register your dog to participate in the competition costs $45.00. The military veteran/first responder heat is $35 per dog contestant. Register your dog today by visiting www.furryfriendsadoption.org.
Dogs are permitted on the beach with a leash only (non-retractable), one dog per handler please.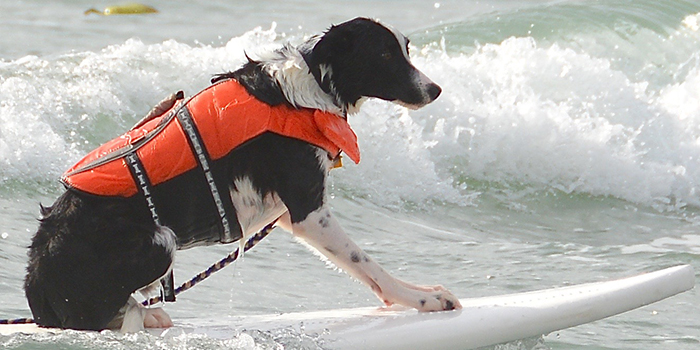 About Furry Friends Adoption, Clinic & Ranch:

The Humane Society of Jupiter/Tequesta dba Furry Friends Adoption, Clinic & Ranch is a not for profit 501(c)(3) organization. This no kill rescue organization is headquartered in Jupiter, Florida with a facility that includes an adoption center, administration offices, & full-service veterinary clinic. In addition, they manage a thrift store & boutique in Jupiter as well as a 27-acre ranch located in Palm City. Furry Friends Adoption, Clinic & Ranch has been rescuing, rehabilitating, and rehoming homeless animals in our community for more than 30 years.
Calendar Listing:
3rd Annual Surf Dog Classic by Furry Friends Adoption, Clinic & Ranch Sunday, November 26, 2017 presented by Jupiter Pet Emergency & Specialty Center. Open to the public, free event-donations recommended, event is from 7:45am-2:00pm with the dog surf competition beginning at 8:30am.
Furry Friends Fact Sheet:

YTD 2017= 945 adoptions (an increase of 122% over 2016).
Furry Friends saw 14,000 animals in their clinic in the past year.
Furry Friends spayed/neutered almost 900 animals last year (and more than 700 were FURF animals, directly impacting the pet overpopulation epidemic).
Furry Friends takes in homeless pets not only from Jupiter and surrounding areas but throughout the state, country and even internationally. Furry Friends believes that all furry lives matter, no matter what their geography
Furry Friends is the only shelter open to the public in north Palm Beach County, and is open Monday through Saturday, 11am-6pm.
Furry Friends has a clinic in Jupiter, which is open 6 days a week and offers low cost services Furry Friends takes in the abused, forgotten, and neglected. They live the nightmares and horrific animal stories every single day and yet they press on to continue saving as many as we can.
Furry Friends partners with other rescues to assist with saving as many lives as possible. They are currently assisting with a dog hoarding situation in Jacksonville, FL.
Furry Friend's goal is to provide the highest quality medical, surgical, and dental care for your pet through their veterinary clinic.
All profits from the veterinary clinic go towards funding their mission to rescue, rehabilitate and find permanent loving homes for the animals in their care.
Furry Friends Adoption Clinic and Ranch recently launched a capital campaign for a new almost 15,000 square foot facility in Jupiter Commerce Park. The capital campaign seeks to raise approximately 3.1 million dollars.
Contact Details
Name: Jennifer Sardone-Shiner
Email: Email Us
Phone No: (561) 891-7278
3rd Annual Hang 20 Surf Dog Classic Returns Just In Time For The Holidays