2020 Alzheimer's Association Walk to End Alzheimer's
2020 Alzheimer's Association Walk to End Alzheimer's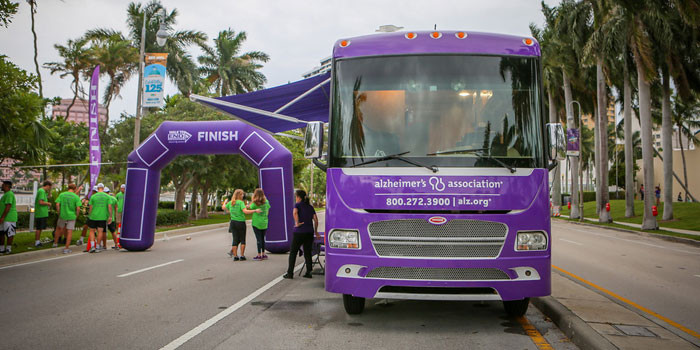 West Palm Beach, FL - October 21, 2020 - On Oct. 24, West Palm Beach residents will join the fight to end Alzheimer's disease at the Alzheimer's Association Walk to End Alzheimer's. Funds raised will support the care, support and research programs of the Alzheimer's Association.
Due to the current COVID-19 pandemic, this year's Walk will take place on sidewalks, tracks and trails across West Palm Beach as participants walk as individuals, families or small teams.
On Walk day, an Opening Ceremony broadcast will feature local speakers and a presentation of Promise Flowers to honor the personal reasons participants join together to fight Alzheimer's and all other dementia. A Promise Garden to honor all those impacted by Alzheimer's will be created in a "view only" format on Walk day.
WHEN: Saturday, Oct. 24, 2020
WHERE: All across West Palm Beach. A drive-through Promise Garden will be viewable at Palm Beach Gardens High School at 4245 Holly Drive, West Palm Beach, FL 33410.
WHO: The Opening Ceremony will include remarks from:
Emcees Hollani Davis, Andy Delancey and Michael Trim from WPTV
Event Chair Corie Zordani of Cormark Group
National Presenting Sponsors CVS Health and Edward Jones
The 2020 Walk to End Alzheimer's offers a great opportunity for media to report various Alzheimer's-related storylines and the disease's impact on West Palm Beach residents, including:
The personal impact of Alzheimer's on local families
The additional challenges for Alzheimer's caregivers during a pandemic
Personal reasons/motivations for participating in Walk
Local experts from the Alzheimer's Association can also address the following:
State-specific Alzheimer's statistics and disease impact on Florida's families
How the Association is supporting families and delivering services during the current pandemic.
Contact Details
Name: Samantha Logue
Email: Email Us
2020 Alzheimer's Association Walk to End Alzheimer's