Feel Good Music Fest 2022
Feel Good Music Fest 2022
North Beach Bandshell
Sep 18, 2022
03:00 PM
2022-09-1803:00:00 2022-09-1811:00:00 America/New_York Feel Good Music Fest 2022 The Feel Good Music Fest 2022 is an event that combines live music, gastronomy and nature and hosted at Miami Beach's premier oceanside home for music, arts, and culture, the North Beach Bandshell. It is a historic landmark which has hosted the best concerts since 1961, making it one of the most privileged locations in South Florida.Bahiano: Argentinian reggae legend popularly known for his unique deep voice style and his Latin American success with Los Pericos in the 90's and beyond with anthems such as "Parate Y Mira", "Home Sweet Home", "Pupilas Lejanas", and "Runaway".Gondwana, formed in 1987 in Santiago, Chile, has remained one of the most successful and celebrated Latin reggae bands in the game. They convey the socially conscious messages of roots reggae in their music in their native language, Spanish, scoring many millions of views on YouTube for singles such as "Piensame", "Felicidad", "Sentimiento Original".Bachaco, representing Venezuela via Miami with a reggae rock attitude and a Latin twist, 15+ Years and 300+ concerts from Argentina to Canada. They return to Miami with their Live Performance EP which features the hit singles "Loosen Up", "Sa Sa Sa", "You Say You Love Me", and Spanish rendition of Barrington Levy's "Too Experienced".Inner Circle, from Jamaica with 50-year-plus history in the reggae field and immense popularity, this Grammy winning quintet is one of the world's most respected reggae groups with a long string of successes stretching back to the mid-70′s: "Bad Boys" became a Number One hit in almost every European territory and sold approximately seven million copies worldwide; and "Sweat (A La La La La Long)" exploded across the world.Doors open at 3 p.m. with a special DJ and local guest performances, and the show starts at 5 p.m. The event is all ages and attendance is limited to 1,000 guests; ticket purchase prior to the event day is highly encouraged to guarantee availability. General admission tickets start at $49.99 and are now on sale at FeelGoodMusicFest.com/get-tickets.Presented by Feel Good Shops. Learn more at FeelGoodMusicFest.com. 7275 Collins Ave, Miami Beach, Florida, 33141 Michael Mut mutcomm@gmail.com Feel Good Music Fest 2022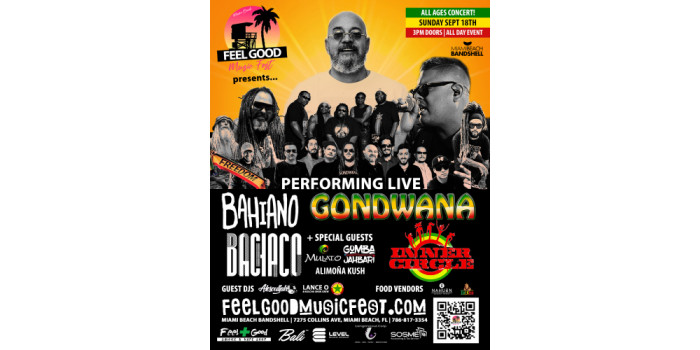 The Feel Good Music Fest 2022 is an event that combines live music, gastronomy and nature and hosted at Miami Beach's premier oceanside home for music, arts, and culture, the North Beach Bandshell. It is a historic landmark which has hosted the best concerts since 1961, making it one of the most privileged locations in South Florida.
Bahiano: Argentinian reggae legend popularly known for his unique deep voice style and his Latin American success with Los Pericos in the 90's and beyond with anthems such as "Parate Y Mira", "Home Sweet Home", "Pupilas Lejanas", and "Runaway".
Gondwana, formed in 1987 in Santiago, Chile, has remained one of the most successful and celebrated Latin reggae bands in the game. They convey the socially conscious messages of roots reggae in their music in their native language, Spanish, scoring many millions of views on YouTube for singles such as "Piensame", "Felicidad", "Sentimiento Original".
Bachaco, representing Venezuela via Miami with a reggae rock attitude and a Latin twist, 15+ Years and 300+ concerts from Argentina to Canada. They return to Miami with their Live Performance EP which features the hit singles "Loosen Up", "Sa Sa Sa", "You Say You Love Me", and Spanish rendition of Barrington Levy's "Too Experienced".
Inner Circle, from Jamaica with 50-year-plus history in the reggae field and immense popularity, this Grammy winning quintet is one of the world's most respected reggae groups with a long string of successes stretching back to the mid-70′s: "Bad Boys" became a Number One hit in almost every European territory and sold approximately seven million copies worldwide; and "Sweat (A La La La La Long)" exploded across the world.
Doors open at 3 p.m. with a special DJ and local guest performances, and the show starts at 5 p.m. The event is all ages and attendance is limited to 1,000 guests; ticket purchase prior to the event day is highly encouraged to guarantee availability. General admission tickets start at $49.99 and are now on sale at FeelGoodMusicFest.com/get-tickets.
Presented by Feel Good Shops. Learn more at FeelGoodMusicFest.com.
Location: 7275 Collins Ave, Miami Beach, Florida, 33141 View Map
Starts on: Sep 18, 2022 at 03:00 PM
Ends on: Sep 18, 2022 at 11:00 PM
Feel Good Music Fest 2022