Billboard Country Music Artist Justin Moore Headlines Boca Raton Concert in Support of Stoneman Douglas High School Tragedy
Billboard Country Music Artist Justin Moore Headlines Boca Raton Concert in Support of Stoneman Douglas High School Tragedy
FAU Kaye Auditorium
Sep 21, 2018
07:30 PM
2018-09-2107:30:00 2019-09-2112:00:00 America/New_York Billboard Country Music Artist Justin Moore Headlines Boca Raton Concert in Support of Stoneman Douglas High School Tragedy BOCA RATON, FL., (September 10,2018) – Country music superstar Justin Moore is using his voice to support the healing and rebuilding at Stoneman Douglas High School in Parkland.Moore, a #1 Billboard Country music artist, will headline #MSDCOUNTRYSTRONG, a benefit concert for those impacted by the tragedy. The concert will be held Sep. 21, at 7 p.m. at the FAU Kaye Auditorium in Boca Raton. 777 Glades Rd, Boca Raton, FL 33431Doors open at 6 p.m. and concertgoers can take a thrill ride on a mechanical bull or sample Southern cuisine from Brother Jimmy's BBQ.American Idol star Emily Brooke will open for Moore. And there will be a special performance of the song "Hear me out," by Camp Shine, a creative arts therapy camp provided by MSD Shine.Proceeds from the concert will go toward building an art memorial to the victims and remodeling of the concession stand at the school. Tickets are available through Ticketmaster or by calling 800-564-9539. For more information visit www.msdcountrystrong.com.Those who can't make it to the event in person are invited to watch a live stream online with a $10 donation. 777 Glades Road, Boca Raton, Florida, 33431 Sandy Collier heysandypr@gmail.com Billboard Country Music Artist Justin Moore Headlines Boca Raton Concert in Support of Stoneman Douglas High School Tragedy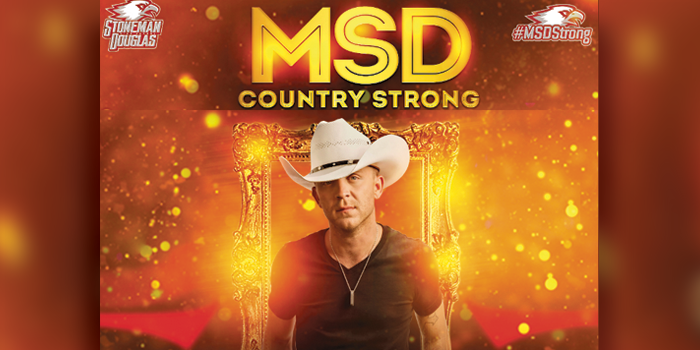 BOCA RATON, FL., (September 10,2018) – Country music superstar Justin Moore is using his voice to support the healing and rebuilding at Stoneman Douglas High School in Parkland.

Moore, a #1 Billboard Country music artist, will headline #MSDCOUNTRYSTRONG, a benefit concert for those impacted by the tragedy.

The concert will be held Sep. 21, at 7 p.m. at the FAU Kaye Auditorium in Boca Raton. 777 Glades Rd, Boca Raton, FL 33431

Doors open at 6 p.m. and concertgoers can take a thrill ride on a mechanical bull or sample Southern cuisine from Brother Jimmy's BBQ.

American Idol star Emily Brooke will open for Moore. And there will be a special performance of the song "Hear me out," by Camp Shine, a creative arts therapy camp provided by MSD Shine.
Proceeds from the concert will go toward building an art memorial to the victims and remodeling of the concession stand at the school.
Tickets are available through Ticketmaster or by calling 800-564-9539. For more information visit www.msdcountrystrong.com.

Those who can't make it to the event in person are invited to watch a live stream online with a $10 donation.
Location: 777 Glades Road, Boca Raton, Florida, 33431 View Map
Starts on: Sep 21, 2018 at 07:30 PM
Ends on: Sep 21, 2019 at 12:00 AM
Contact Details
Name: Sandy Collier
Email: Email Us
Phone No: (561) 386-5262
Billboard Country Music Artist Justin Moore Headlines Boca Raton Concert in Support of Stoneman Douglas High School Tragedy