The Ballpark of the Palm Beaches
The Ballpark of the Palm Beaches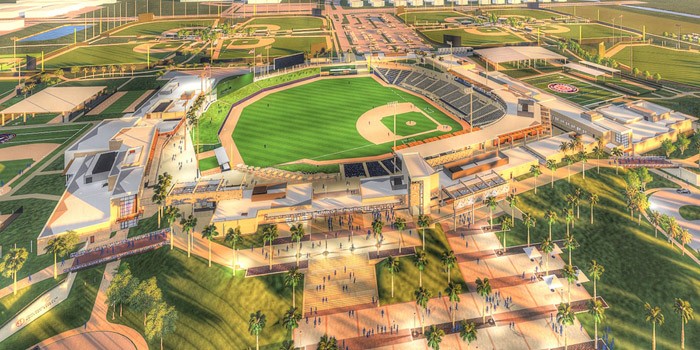 The state-of-the art Ballpark of the Palm Beaches is Palm Beach County's newest Spring Training destination for the Washington Nationals and the Houston Astros. Located in the city of West Palm Beach – just a short ride from Jupiter – the stadium offers a 6,500-seat, fan-friendly design where visitors can make the most of our their Spring Training experience starting in 2017. The stadium features a 360-degree concourse where fans can comfortably watch in the shade, and suite-level seating and party areas are also readily available for visitors who wish to enhance their day the ballpark by a few notches.
The Ballpark of the Palm Beaches is comprised of six different fields in which the Astros and Nationals circulate throughout their training practice and exhibition games. The stadium is specifically structured so that fans can move around easily in order to catch a glimpse at some of their favorite players while they train or see their team's progress in preparation for the regular season via one of the scheduled pre-season games.
Aside from spring training, the complex features an array of events year-round including concerts, tournaments, corporate functions, and festivals. The 160-acre campus where the stadium is located includes a 12-acre City Park featuring a large playground, splash park, four lighted basketball courts, and a 1.8-mile walking/jogging trail that follows the perimeter of the campus.
The Ballpark of the Palm Beaches is located at 5444 Haverhill Road, West Palm Beach, Florida 33407, which is just off I-95, and in the heart of West Palm Beach. For more information, please visit
www.ballparkpalmbeaches.com
The Ballpark of the Palm Beaches