Jupiter Outdoor Center
Jupiter Outdoor Center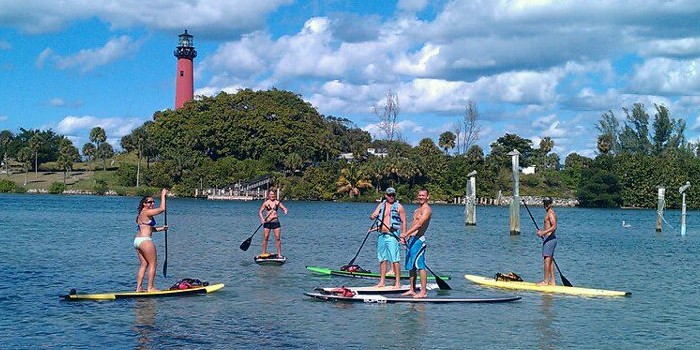 Thousands of outdoor enthusiasts love to return the Jupiter Inlet at Love Street to enjoy the multiple water activities available in our crystal waters!
Jupiter Outdoor Center offers rentals, classes, parties, and tours of:
Kayak

Paddle Board

Dragon Boat
Snorkel
Sightseeing Cruises
Within the depths of the ocean, there is an abundance of wildlife you can encounter. You can paddle with manatees, dolphin, and sea turtles on any given day, and kayak or paddleboard through mangrove estuaries home to nesting pelicans, great blue heron, osprey and a variety of other bird species.
Along the waterways are an array of historical sites that you can visit such as the Jupiter Inlet Lighthouse, Sawfish Bay, and the Dubois Pioneer Home. During low tides you may come across sand bars that will emerge out of the waters, providing a great opportunity to see the environment up close and to enjoy a packed lunch. While Jupiter is filled with boaters, paddle boarders, kayakers, and jet skiers alike, you will be greeted with a friendly wave from a local. Get your bathing suit on, exploration and adventure awaits you!
The Jupiter Outdoor Center is located at 1116 Love Street Jupiter, FL 33477. Hours of Operation are Monday-Sunday from 9 AM to 5 PM.
Jupiter Outdoor Center