Sea Turtle Release Off Juno Beach Wednesday Morning
Sea Turtle Release Off Juno Beach Wednesday Morning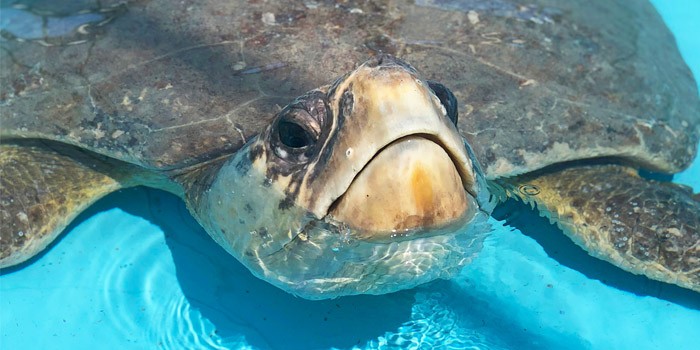 Who: Loggerhead Marinelife Center
When*: Wednesday, Nov. 28, 2018 at 11:00 a.m.; pre-release procedures begin at 10:30 a.m.
Where: Loggerhead Marinelife Center (14200 US Highway One, Juno Beach)
What: LMC will release Honda the sea turtle from its facility off Juno Beach.
Honda, an adult male loggerhead sea turtle patient, was found in the St. Lucie Power Plant intake canal. He was underweight and had an active infection when he arrived. Bloodwork was analyzed weekly as we treated him with antibiotics and subcutaneous fluids. Honda will be fitted with a satellite transmitter so we can follow his movements after his release.
Honda will be prepared for release from LMC starting at 10:30 a.m. LMC docents will convey the history of the turtle's journey and final preparations to visitors, with a procession to the beach for the release to follow. We recommend arriving early for parking and to find a good spot on the beach.
Our sea turtle patient, "Honda" is named in honor of The Honda Classic, the largest golf event in Palm Beach County. The best golfers in the world descend upon PGA National Resort & Spa each February to play for the Honda Classic's Waterford Trophy, and the resort welcomes thousands of spectators who get to enjoy some of the best golf in the world. The Honda Classic has created the Honda Classic Cares Foundation, which over the years has reinvested profits from this exceptional event to help positively impact the lives of children in our community. Over 100 local nonprofit organizations are supported by the Honda Classic Cares Foundation. The Honda Classic Cares underwrites a portion of educational programming at LMC. We are honored to partner with the Honda Classic Cares Foundation to invest in the education of our children within our community.
Local staff will be available for media interviews at their discretion.
*Weather may impact the scheduling of this release. Please check marinelife.org and LMC's social media channels for updates.
---
See the Business Behind the Story

Loggerhead Marinelife Center is a 501(c)3 non-profit education and ocean conservation facility located on the Atlantic Ocean in Palm Beach County, Florida.
Juno Beach, Florida, United States | 561-627-8280, email us
Sea Turtle Release Off Juno Beach Wednesday Morning