Lighthouse Sunset Tour
Lighthouse Sunset Tour
Jupiter Inlet Lighthouse & Museum
Dec 20, 2017
12:00 AM
2017-12-2012:00:00 2018-11-2912:00:00 America/New_York Lighthouse Sunset Tour *Time varies by sunset*Take in the spectacular sunset views and witness the Jupiter Light turning on to illuminate the night sky.Visitors get an inside look at the nuts & bolts of a working lighthouse watch room.Tour time approximately 75 minutes, $15 Members, $20 Non-Members, RSVP required.Tours are weather permitting, call for tour time. Children must be at least 48 in. tall to climb the tower. Jan. 4, 11, 18, 25Feb 1, 8, 15, 22Mar 1, 8, 22, 29 Apr 5, 12, 19, 26May 3, 24Jun 14, 28Jul 5, 19Aug 2, 23Sep 20Oct 18, 25Nov 8, 29Dec 20, 27 500 Captain Armour's Way, Jupiter, FL 33469, Florida Jupiter Inlet Lighthouse & Museum N/A Lighthouse Sunset Tour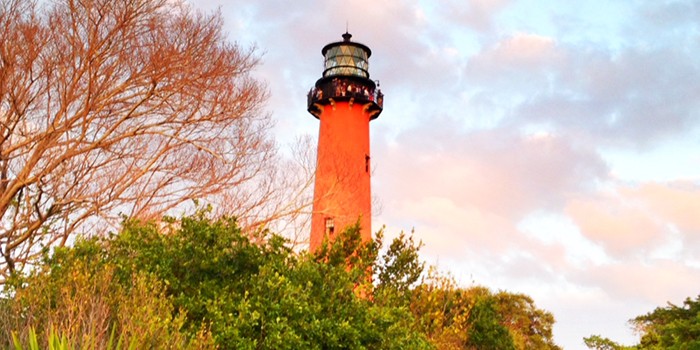 *Time varies by sunset*
Take in the spectacular sunset views and witness the Jupiter Light turning on to illuminate the night sky.
Visitors get an inside look at the nuts & bolts of a working lighthouse watch room.
Tour time approximately 75 minutes, $15 Members, $20 Non-Members, RSVP required.
Tours are weather permitting, call for tour time. Children must be at least 48 in. tall to climb the tower.

Jan. 4, 11, 18, 25
Feb 1, 8, 15, 22
Mar 1, 8, 22, 29
Apr 5, 12, 19, 26
May 3, 24
Jun 14, 28
Jul 5, 19
Aug 2, 23
Sep 20
Oct 18, 25
Nov 8, 29
Dec 20, 27

Cost: $20.00
Location: 500 Captain Armour's Way, Jupiter, FL 33469, Florida View Map
Starts on: Dec 20, 2017 at 12:00 AM
Ends on: Nov 29, 2018 at 12:00 AM
Event Url: http://www.jupiterlighthouse.org/explore/programs/sunset-and-moonrise-tours/
Contact Details
Name: Jupiter Inlet Lighthouse & Museum
Email: Email Us
Phone No: 561-747-8380 X10
Lighthouse Sunset Tour